What's Happening in the Dressage World?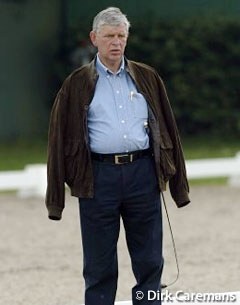 Johann Hinnemann became grandfather for the first time. His son Stephen, who lives in the U.S. with wife Natalie Hamilton, became the father of a baby girl called "Josephine". Stephen met American Natalie Hamilton at Hinnemann's stable in Germany where Natalie was training. A former medal winning Young Rider, Natalie Hamilton, who is originally from Murietta, CA, returned to the U.S. last year where she married Stephen. The couple are currently building their own barn near Minneapolis, USA.
Eurodressage recently posted that Richard Davison's Danish warmblood mareBallaseyr Royale gave birth to a colt foal by Lingh. We were kindly asked to mention that Royale is out of the Danish warmblood mare Matadi, who also gave birth to Blue Hors Matine, Andreas Helgstrand's phenomenal upcoming Grand Prix mare. Matine is by Blue Hors Silver Moon out of Matadi, while Ballaseyr Royale is by Picandt out of Matadi. Only few mares are able to produce two international Grand Prix 70% plus scoring horses. Girl power!!
Talking about British owned international Grand Prix mares giving birth to foals.Sandy Phillips had embryo transfer performed on her wonderful Rhinelander mareLara (by Lanciano) and paired the embryo to some of Diamond Hit's super fertile "spunk". The results, a breath taking Diamond Hit x Lanciano youngster.
Eurodressage correspondent Barbara Schnell took an 8-day holiday in Scotland and has taken phenomenal photos on her trip. Check out her daily report from Scotland with breath taking photos at this location.
Sad news from Holland. The mother of Kirsten Beckers, a Dutch A-team member and steady rider of the famous KWPN licensed stallion Jazz, has passed away. Marja Beckers' untimely death has left her family and daughter devastated. Marja was Kirsten's biggest fan.
The 2010 World Equestrian Games of Kentucky has a new title sponsor. It's the first time the WEG has been able to contract a title sponsor and the deal was signed in Kentucky by FEI president Haya of Jordan and the company Alltech International. Alltech invested 8 million euro into the World Equestrian Games which in the future will be called Alltech FEI Games. I wonder if anyone will known what the "Alltech FEI Games" will be about; sounds more like a Silicon Valley based computer game competition.
Bulletin Boarders keep mulling about the Anky / Rollkur issue. This has recently lead to serious animosity between the readers/writers of two of the biggest dressage bulletin boards on the Internet: Chronicle of the Horse versus Ultimate Dressage Bulletin Board. In relation to Anky's recent Grand Prix world record score achieved at the CDIO Rotterdam, somebody cracked us up with this comment: "Oh dear. Maybe we need a popularity poll: Anky vs President Bush. See if together they can pull 81 percent?"
On the Sidelines website we read that Leslie Morse, her partner Laura Petroff and dressage benefactor Carol Cohen spent Mother's Day shopping on Rodeo Drive in Los Angeles, CA.. Wow, that's much more fun than getting a bouquet of flowers!!
American Grand Prix rider Lisette Milner told us that she's absolutely in love with her new 4-year old Danish warmblood youngster. Las Vegas, formerly known as Lancaster Tagerup, is by Solos Landtinus and was found in Denmark by her Danish trainer Lars Petersen. "He's very, very special," Milner told Eurodressage. We can't wait to see him.
and finally...
He might have had no influence whatsoever on the breeding of dressage horses, but we still would like to mention that passing of the Belgian warmblood foundation sire Darco has passed. The dark bay stallion by Lugano van La Roche x Codex was found by his caretaker Ivo Schoolen in his stall with a swollen hind leg. After a series of X-rays, it was discovered that Darco broke his thigh bone as well as ruptured the tendons near it. Recovery was impossible and it was decided that the stallion had to be put down. He was 26 years old. Darco has more than 3000 registered BWP offspring and is one of the most successful show jumping sires ever. Darco's offspring Trudo King Darco, Ottorongo and Parco are amongst his most famous. In the WBFSH standings for 1999-2000, Darco finished 8th, with 35 (!) progeny contributing to his ranking. Ludo Philippaerts made his name with Darco. He spoke with much praise of this stallion. "Together with Darco, I began my international career. A horse to remain grateful to for the rest of my life. Darco really has everything it takes to make a unique super crack, as a showjumper as well as a sire. Horses of this outstanding quality will remain the great exceptions in the breeding industry. I will never forget the fine intelligence he so often proved in the showjumping arena, where he always showed lots of power and stamina coming from his high-bred ancestors," Philippaerts told the Horse Magazine.