2006 World Equestrian Games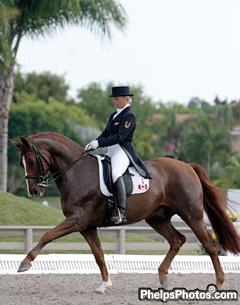 Dressage Canada has announced the members who will be representing Canada at the 2006 FEI World Equestrian Games in Aachen, Germany, August 20 – September 3. Canada's team for the FEI 2006 World Equestrian Games (WEG) is as follows:
Jacqueline Brooks - Gran Gesto
Cindy Ishoy - Proton
Ashley Holzer - Imperioso and Gambol
Evi Strasser - Quantum Tyme
Although there were two stages to qualifying for the team, it was Stage 1 of the qualifying criteria that quickly determined who were to fill the available four team positions. This resulted in the unusual situation of the Stage 2 Selection Trials being canceled.
"The decision to cancel the Selection Trials was a very difficult one," explained Kerri McGregor, Chair of Dressage Canada. "Dressage Canada values the support shown by the competitions who had agreed to host the Trials (Blainville Equestrian Park and Equivents). However when Stage 1 of the criteria had successfully selected the team, this made Stage 2 redundant."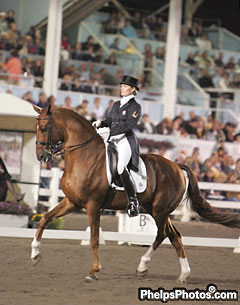 The cancellation of the Stage 2 Selection Trials presented the opportunity for the WEG athletes to prepare their horses by training and competing in Europe with Canada's international team coach Norbert van Laak, which all team athletes strongly endorsed.
"Dressage Canada sincerely thanks both Blainville Equestrian Park and Equivents for their continued support of dressage," added McGregor. "We wish the very best to Canada's Dressage WEG team in their efforts in Aachen, Germany."
This year's WEG team is poised to put in a strong performance with their combined competitive experience including Olympic Games and multiple Pan American Games medals.
The Canadian Riders
Ashley Holzer, who has received medals at both the Olympic and Pan American Games, gained her qualifying scores from an extremely successful early season in Florida. Holzer accumulated wins with both Imperioso and Gambol in multiple CDI3*'s, with international judges awarding scores in the 70's. She is now in the unique position of having two horses qualified and will be bringing both horses to Europe. "I am thrilled to be going to Europe to compete and train leading up to the World Equestrian Games," said Holzer. "By competing abroad, we will be very sure which horse is truly ready to represent Canada."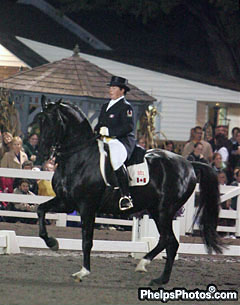 Multiple Olympian Cindy Ishoy will once again be partnered with her 2004 Olympic Games mount, the 12-year-old Baden-Wurttemberger gelding, Proton. Having recently returned from Europe where the pair represented Canada in the World Cup Finals in Amersterdam, Netherlands, and posted a top ten performance at the CDI3* Hagen, Germany, Ishoy feels it important to compete in Europe in order to help ensure international success. "I'm very happy to have this opportunity to try and be as successful as possible."
Olympian Evi Strasser, who also boasts a team silver Pan American Games medal as well as multiple appearances as Canada's representative to the World Cup Finals, will be looking to continue an extremely successful 2005 competitive season which resulted in a personal best FEI world rider ranking of 28th with Quantum Tyme, her 11-year old Oldenburg gelding. "After a wonderful season last year, I used the Florida circuit as a warm-up for this competition year and will be going to a few Canadian shows as schooling in preparation for Europe," commented Strasser. "We don't want to peak too soon."
Jacqueline Brooks is looking forward to re-joining her 2003 Pan American Games team silver medal teammates Holzer and Strasser, as well as being on a team for the first time with international veteran Ishoy. "I am looking forward to spending time with my teammates. This is a fantastic group," exclaimed Brooks. "I'm very excited about the opportunity of training and competing in Europe this summer and being exposed to world class riding to further my own education."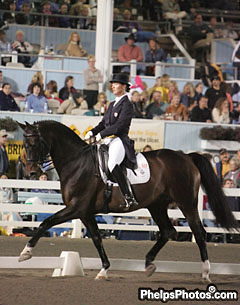 In addition to taking advantage of some early training and competition time in Europe with their WEG mounts, all four riders will also be taking their Advanced horses along for the trip.
"This is a wonderful opportunity for the athletes as they are all taking their small tour horses with them for the experience and exposure prior to vying for a spot on the 2007 Pan American Games team," said Kim Goodyear, Chair of Dressage Canada's High Performance Committee.
The dressage competition runs during the first week of WEG, from August 22 to August 26. For ticket information, visit the official WEG website at www.aachen2006.de.
Photos copyrighted: Astrid Appels exclusively for Phelpsphotos.com
Back to the 2006 WEG index