2006 U.S. Dressage Championships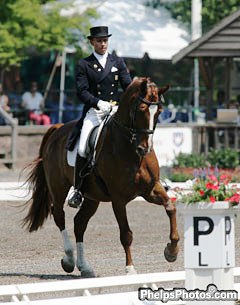 There's nothing better than a hat-trick, but how about a hat-trick times three…all three championships held at the USET Foundation Festival of Champions were clean sweeps by Rebecca Hart, Michelle Gibson and Steffen Peters.
Hart was the winner of all three classes that make up the 2006 USEF National Para-Equestrian Championship, Gibson took the honors winning all three of her classes to in the 2006 Collecting Gaits Farm/USEF National Intermediaire I Dressage Championship, and Peters took home top honors by winning all three classes in the 2006 Collecting Gaits Farm/USEF National Grand Prix Dressage Championship.
There was no looking back for Peters; he led all week long with stellar performances on Floriano, the 16-year-old Westphalian gelding, owned by Laurelyn Browning. Peters, of San Diego, CA, scored an impressive 83.250% in his Grand Prix Freestyle with a three-day total of 77.209%. There were no tears today, just wide grins.
Competing against Seidel in California this season, Peters said that Seidel was strong, so he really couldn't have predicted that he and Floriano would come out on top by such a high margin. He was, however, happy that he had two strong performances and such a solid lead coming into today's freestyle. "I came in today a little bit more relaxed, that's for sure. I was so very happy that Floriano had so much energy and that he felt 100% healthy…You know, nobody ever camped on Mt. Everest, but in the meantime I am going to enjoy the view."
In the reserve position today was Guenter Seidel, of Cardiff, CA. Seidel and Aragon had a freestyle score of 77.600% and a total after three performances of 73.394%. Aragon is a 14-year-old Bavarian Warmblood gelding, owned by Richard and Jane Brown. "He's doing well; he wasn't as spooky as I expected him to be. It was good enough, but I know he can do better than this. I am hoping he'll peak in a month when we're in Europe."
Leslie Morse and her Swedish Warmblood stallion, Tip Top 962 rounded out the top three spots overall with an impressive freestyle that landed them a score of 79.100% today for a total after three days of competition of 73.232%. Morse made some last minute changes to her freestyle and after seeing the judges scores agreed with her decision. "I think the decision to make the changes was very smart. Yes, it was very risky, but I love my music and I knew in my heart this was the right thing to do…It takes you a few freestyles to find out and decide what your highlights are and where you can put things and where you want to put things on one end of the arena or the other end."
Arlene "Tuny" Page, of Wellington, FL, was third today with a solid freestyle test on her 10-year-old Hanoverian gelding, Wild One. With many impressive moves, Page is another rider who is in contention for the team that will head to Aachen. She and Wild One competed in the World Cup this past March in Amsterdam. Their freestyle score was 77.950% with an overall total of 71.722%.
When the top four riders were asked what their plans were regarding traveling to Europe this summer, Page said "My horse is younger, and he needs to develop strength and he still needs a little bit of mileage in the ring, unlike some of the other more experienced horses. With my horse it might make a little more sense to go a little bit earlier."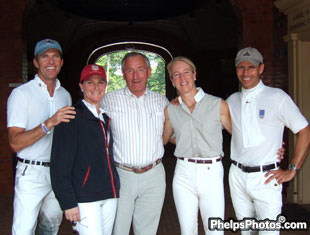 U.S. Dressage Team Coach Klaus Balkenhol was pleased with what he saw today in the Grand Prix Freestyle. "It is very pleasing to me that the riders day by day improve…I am pleased with all of the horses in their freestyle, and those that are in contention for a place on the team really showed some difficult technical movements today. They did really well. We have no need to hide ourselves, we should be very proud internationally coming up against the other riders."
An impressive class of 12 horses and riders started out the day in the 2006 Collecting Gaits Farm/USEF National Intermediaire I Dressage Championship. Not only were there five first-timers, but the newest of them took home reserve champion.
Michelle Gibson of Wellington, FL, and Lex Barker won the title after pulling off a hat trick with wins in the Prix St. Georges, Intermediaire I and Freestyle classes. Lex Barker is a nine-year-old Hanoverian gelding, owned by Elite European Sporthorses, Inc. Gibson, who earned a 78.7% in her freestyle today, was a member of the Bronze-medal winning U.S. Dressage team at the 1996 Atlanta Olympics.
This was only the third time Gibson and Lex Barker did their test in the show ring, and they were happy with their results knowing how hard they worked. "I haven't looked at my test yet, I don't know what the judges thought of it, but I didn't exactly think it was easy." Gibson says this will be their last Intermediaire I test, and they will spend the summer working on the grand prix and see where and when that takes them to.
The incredibly talented and exceedingly tall Lex Barker is a mount that Gibson is especially proud of. "He's good in the ring so whether there is music playing or not playing, when he comes up, he has a little bit of spark to him." When asked what his personality is like, Gibson's response was, "he's the funniest horse, he is just very funny. He's curious about absolutely everything. We have a jolly ball in his stall for him to play with, and he'll pull the screen off the wall and walk up to the fan and stick his nose on it. He's really a very funny horse."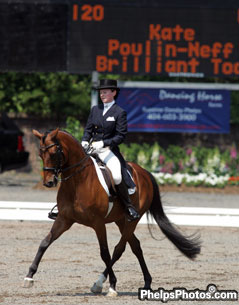 In second place today and reserve champion overall was Katherine Poulin-Neff with a freestyle score of 75.50%. Poulin-Neff, of Newbury, OH rode her diminutive home-bred nine-year old Dutch Warmblood/Thoroughbred cross Brilliant Too. Poulin-Neff broke the 15.1h horse as a five-year-old and says he is the perfect size for her. This was the first time Poulin-Neff had a professional freestyler compose her test.
"It's unbelievable. I am just happy to be here. I just wanted to place first through sixth so to be reserve champion is…I don't even know what to say."
This was only the fifth Prix St. Georges and Intermediaire I test the pair have done. "He's pretty consistent as long as I don't lose my cool. I get nervous and lose my focus, and this is a big show. I had to come here with no expectations whatsoever, and just to make it here was an accomplishment. I wanted to come here and not make any mistakes and just do the job."
Rounding out the top three placings was another nine-year-old horse, Rafalca, an Oldenburg mare, owned by Amy Ebeling and Ann Romney and ridden by Jan Ebeling. Ebeling, of Moorpark, CA, scored a 74.15% on today's freestyle.
"It was very tight; from second to sixth was a really tough race. Michelle had kind of gone off in the distance, and there was not much we could do anymore. I'm really happy. I have a young horse and she's great. I'm very lucky to have her and very lucky to have the people that helped me to buy the horse."
The final hat trick of the week belonged to Rebecca Hart, from Erie, PA. Rebecca and her 14-year-old Hanoverian gelding, Nordkap won the 2006 USEF National Para-Equestrian Championship yesterday with a three day total score of 73.74%.
Photos copyrighted: Mary Phelps/Phelpsphotos.com
Check Out Horsesdaily's "On the Scene" coverage of the 2006 Festival of Champions with tons of photos and articles.
Related Links
Grand Prix Special Ride Brings Tears to the Eyes of one Rider
Scores: 2006 Festival of Champions 
Gibson and Lex Barker Closer to Small Tour Champion's Title
Steffen Peters and Floriano Win Grand Prix at 2006 Festival of Champions