2006 U.S. Dressage Championships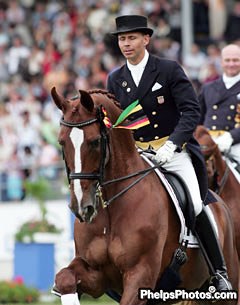 California riders claimed the top three spots in the Grand Prix today at the 2006 Festival of Champions in Gladstone, New Jersey. Three-time Olympian Steffen Peters riding Floriano, a 16-year-old chestnut Westphalian gelding owned by Laurelyn Browning
, claimed victory with a score of 74.500%. Two riders tied for second place - Guenter Seidel and Leslie Morse both earned 71.583%. Three-time Olympian Seidel was in the irons on his 2004 Athens Olympic Games mount, Aragon, a 14-year-old gray Bavarian warmblood owned by Richard and Jane Brown. Morse was aboard her 12-year-old Swedish warmblood stallion Tip Top, her mount for the 2006 World Cup Dressage Final.
These three riders topped the class of 12 competitors competing in the first of three tests that will be held at the festival, June 15-18, for the 2006 Collecting Gaits Farm/USEF National Grand Prix Championship/World Equestrian Games Selection Trials. Today's Grand Prix test counted for 45%; the USEF Grand Prix Special test on Saturday, June 17, will count for 35%; and the USEF Grand Prix Freestyle test on Sunday, June 18, will account for 20%. The combined scores according to the above percentages comprise the rider/horse combinations' final average at the Selection Trials.
Peters chose to go for it on the first day of competition. "I took a lot of risks today in the extensions," said Peters. He noted that he was especially pleased with Floriano's expressive passage. "It all worked out great today." In the awards ceremony following the competition, Floriano exhibited some excited moves – even standing on his hind legs, and Peters explained that he was glad to see that the older gelding still has that spark in him. "He's a hotter horse and that is why he is still going so strong."
With the World Equestrian Games looming (August 20-September 3 in Aachen, Germany) Peters said that he does not expect to improve his horse's performance beyond today's 74-percentile mark and if he and Floriano were selected for the team he would be very happy to stay at the 74-percentile mark, which is likely the highest score this horse could achieve. "In the last centerline, he anticipated the piaffe a tiny bit but overall he was so in front of my aids," Peters explained, "and he had so much energy, but was still very relaxed in the walk and the canter work, so I think this is as good as it gets."
While Peters took risks, Seidel said that he rode conservatively today. "Except for a few obvious mistakes, I was very happy with my ride." Seidel explained that he used the Grand Prix to feel Aragon out a bit prior to the upcoming weekend competitions and that he went for a careful ride in the first round. "If you push too much, he can become a little tense and hectic." Aragon has previously earned 10s for his classic piaffe, but not today. "The first two weren't as good as he can be," Seidel admitted, "but the last was much better." Seidel explained that the difference in the piaffe performances had to do with Aragon's through-ness and overall response to the leg today. Seidel stated that he planned to push the horse more on Saturday.
Morse said she was very pleased with her ride. "He stayed with me most of the ride and I was very happy with him." Morse noted that she was especially pleased with how her stallion handled the crowd and the venue in his first competition at Gladstone. "He stayed who he was and he was really good." She admitted that Tip Top could have showed himself more in the piaffe and been quicker off her aids. "But overall, it was one of the best rides I've had," she enthused. Morse revealed that she might have warmed Tip Top up too long because he had been very fresh in the morning and even did a little bucking in their morning walk on the grounds. "I wanted to go in and do a good, clean ride and build from there."
With her eye on a berth to the World Equestrian Games, Morse noted that she and her stallion are constantly evolving and plan to keep improving as that competition draws near. "We're constantly trying to get better at this," she said, and noted that it was her responsibility to get her horse as strong and fit and solid as possible. "Every show we are moving up. I presume by August, absolutely we will take it to another level. That's our goal, and that's what we will work very hard to do."
Officiating were four USA "I" judges: Jessica Ransehousen, Hilda Gurney; Anne Gribbons; and Janet Foy; the foreign judge was German "O" judge Uwe Mechlem.
Prix St. Georges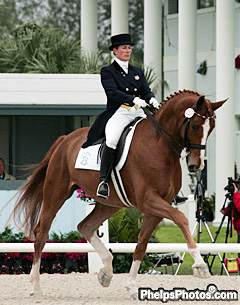 Michele Gibson of Wellington, Florida, riding Lex Barker, a nine-year-old Hanoverian gelding by Longchamp and owned by Elite European Sporthorses topped the class of 12 in the USEF Prix St. Georges today, earning a score of 71.550%. Melissa Jackson of Parrish, Florida, riding her own Hanoverian gelding Wellington placed second with a score of 69.550%. Kate Poulin-Neff of Newbury, Ohio, aboard Brilliant Too, a 10-year-old Dutch warmblood/Thoroughbred gelding owned by Sharon Poulin, claimed third with 69.100%.
The Prix St. Georges was the first of three rounds for the Collecting Gaits Farm USEF National Intermediaire I Championship. To determine the championship, the 12 riders will compete in three weighted classes – today's Prix St. Georges counts for 35%; the USEF Intermediaire I on Friday, June 16, accounts for 45%; and the USEF Intermediaire Freestyle on Sunday, June 18 counts for 20%, towards the final average.
"I'm thrilled! He was a good boy. He felt really, really good today," smiled Gibson. She noted that going first in the class, she experienced the results in the footing of last night's torrential rains. "He's not a mudder, so he was a little bit careful but he felt great. He was nice and up in front and really listening. He felt relaxed. I was really thrilled with him today."
Gibson has been showing Lex Barker in the small tour for two years and the Intermediaire I championship will be the last competition for the duo at this level. Gibson intends to show the talented horse in the Grand Prix next year, but has not ruled out the Pan American Games in 2007 and is taking it a day at a time when it comes to committing to the 2008 Beijing Olympics. She points out that the huge chestnut has a great piaffe. (The diminutive Gibson laughed that she doesn't know and doesn't want to know Lex Barker's height, but assesses it at 17.2-hands).
Today's win was especially momentous for Lex Barker's owners. "I'm really excited for the owners," Gibson said, acknowledging that competing at Gladstone was a landmark for the horse as it was his first competition at the site. "They have had horses before at Gladstone, but Lex is special," Gibson said. "He has a huge heart, he's curious about everything. If you spend any time in the barn with him, you love him. You can't help it. He's just mischievous and curious about everything."
While some riders are pleased just to qualify for Gladstone, Gibson is straightforward about her goal for this championship – victory! "That's why you come here," she said. "But I have good competition and it's really how you are on that day. I really hope for everybody that they have a great ride that day. Yes, I want to win! Of course!" Gibson pointed out that she had two minor "bobbles" in her ride today – a minute rhythm loss in the medium and a mistake in the three tempis. "If I didn't have those two mistakes I would say he was perfect today," she beamed. "But there's always something – it's dressage. Got to make those changes right tomorrow."
FEI Young Rider Team Test
Wrapping up today's competition was the FEI Young Rider Team Test, contested by five riders. Laura Noyes, 19, of Falmouth, Maine, riding her own Syncro claimed the win, scoring 68.800%. Jocelyn Wiese aboard Lamborghini placed second, earning 66.711%. Ana Digironimo and Cadanz placed third with 63.956%.
"I was a little worried because we haven't really done any big shows," Noyes admitted. "I was a little worried that he would be wild but he was right there with me the whole time. I'm so happy with him!"
The FEI Young Rider competition continues on Friday, June 16, with the FEI Young Rider Prix St. Georges Test and on Saturday, June 17, with the FEI Young Rider Prix Stl Georges Freestyle.
Horsesdaily "On the Scene" at the 2006 Festival of Champions 
View Complete Scores of the 2006 Festival of Champions