British Dressage News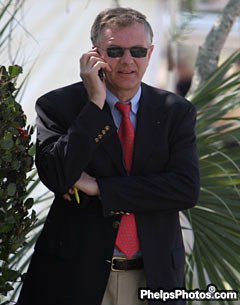 Top international judges, Britain's Stephen Clarke and Germany's Christoph Hess, will give a masterclass with Olympic rider Carl Hester at the Hartpury Festival of Dressage in Gloucestershire, 5-9 July, 2006.
The festival includes an international dressage competition, a premier league show as well as FEI International Para Equestrian classes. Many "big names" have already entered, such as Britain's number one ranked rider Emma Hindle, who is planning to make the trip from her base in Germany.
The masterclass will take place during the Saturday gala evening and tickets cost £10, which will include Saturday daytime attendance. General entry to the show is £10 per car per day, including all occupants, or £30 per car for the duration of the show. For further information or tickets, clickwww.hartpury.ac.uk/dressage or call +44 1452 702126.
Carl Hester has accepted the invitation to become ambassador to the 2007 World Para Dressage Championships (WPDC) to be held at Hartpury College in Gloucestershire, 16-22 July 2007.
A key element of his role is the promotion of the WPDC Supporters' sponsorship package, which Carl is just about to launch.
"I'm thrilled to be asked to take on this role and am keen to begin the work of raising support for these championships. We need money to provide buses with disability access, electric golf buggies and wheelchairs to give all the riders who attend complete freedom of movement. It is easy to forget when we see these remarkable athletes riding, how difficult it can be for many of them to get around when off their horses. The WPDC Supporters' sponsorship package is one way of attracting people who will enjoy being involved and will help us raise money," said Carl.
WPDC Supporters will be invited to join Carl for a gala evening at this year's Hartpury Festival of Dressage, which runs from 5-9 July. This show includes a test event for the World Championships, which has already attracted entries from more than 50 competitors from 14 nations. WPDC Supporters will also be invited to attend the opening ceremony, welcome party and supporters' lunch at next year's World Para Dressage Championships.
Anyone interested in becoming a WPDC Supporter can call +44 1995 832602 or mail maggiejackman@btinternet.com for more information.
Photo copyrighted: Astrid Appels for Phelpsphotos.com
Related Link
Emma Hindle Preparing for the 2006 World Equestrian Games with Team Kyrklund