2007 World Cup Finals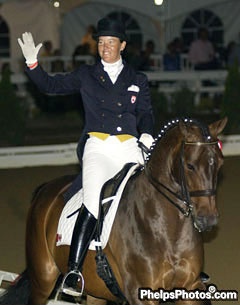 Declared riders for the 2006 Canadian League World Cup Finals started early in collecting qualifying points in both Canada and the U.S. As of May 15, 2006 the lead is shared between Jacqueline Brooks of Mt. Albert, ON
and Sainte-Adele, QC native, Evi Strasser, who both currently sit with 25 points.
Brooks' qualifying bid began in Florida, at the Palm Beach Dressage Derby CDI3* held March 3- 6. Riding the 11-year-old Oldenburg gelding Gran Gesto, owned by Anne Welch and Brinc Ltd, Brooks finished seventh in the Grand Prix Freestyle, scoring 68.225%. The pair went on compete successfully at the Zada Enterprises LLC WEF Dressage Classic CDI3* in Wellington, FL, March 16-19, where their GP Freestyle score of 70.75% earned them a third place finish.
A three time World Cup Finalist, Strasser first earned 2006 points at Florida's elite dressage festival kick off, the Gold Coast Opener CDI/Y3* held January 20 – 22, where she placed fourth in the Grand Prix Freestyle aboard her 11-year-old Oldenburg gelding Quantum Tyme. Next up for the pair was the Zada Classic CDI3*, where they finished the Grand Prix Freestyle just behind Brooks in fifth place after receiving a score of 70.15%. Both horse/rider combinations were part of the silver medal winning team at the 2003 Pan American Games.
Currently sitting in third position with 13 points is Jon Costin of Puslinch, ON. He recently acquired points at the Paxton Farms CDI3*, held in Ohio May 12 – 14, where he placed second in the Grand Prix Freestyle with a score of 66.75% aboard his 10-year-old Hannoverian gelding, Wholio.
Three-time Olympian Cindy Ishoy of Hannon, ON is sitting in fourth position due to her win at the 2005 Canadian League World Cup Final, held at the Royal Winter Fair last November. Paired with her Athens Olympics mount, the 12-year-old Baden-Wurttemberger gelding Proton, Ishoy received a score of 69.00%, earning her 6 qualifying points.
Recently declared riders that will soon be joining the point-chase are Tina Busse-Irwin of Lakefield, ON with Amicelli, Jessica Costello of King City, ON and Litmanen, Tom Dvorak of Hillsburgh, ON aboard Westside Lady and Nancy MacLachlan of Terra Cotta, ON with Ariston.
Following the Dressage Canada Canadian League World Cup criteria, a rider/horse combination earns points based on their results in Grand Prix Freestyle classes at CDI-W, CDI3* and Equine Canada National competitions. In order for Grand Prix Freestyle results to count, each combination must receive Grand Prix and Grand Prix Freestyle scores of 64% or higher. A maximum of five qualifying competitions is allotted with the best four results to count. Standings are updated throughout the year as declared riders collect points and can be viewed at www.dressagecanada.org.
Traditionally held at the Royal Agricultural Winter Fair, this year's Canadian League World Cup Final is scheduled to take place between November 8 – 10th, 2006.
Back to the 2007 World Cup Index