2006 Bundeschampionate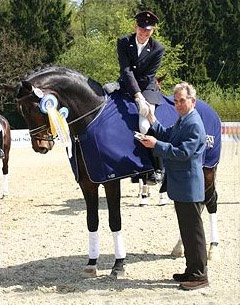 Riccio and Laudabilis put down a sparkling, winning performance in the Dressage Horse Bundeschampionate qualification tests at the national show in Bad Salzuflen, Germany. Pony talents Der Schlaue Fuchs and Der Feine Lord were the winners of the Dressage Pony division.
In the 5-year old Dressage Horse division, Martin Stamkotter rode the Westfalian stallion Riccio (by Riccione x Florestan) to an 8.8 score and dominated a field of seventeen competitors. Birgitte Wittig and her own bred Bohigas W (by Breitling W x Fabriano) landed a second place with 8.6. Stamkotter completed the top three by finishing third aboard the Westfalian stallion Dancing Dynamite (by Don Bedo x Fidermark). Six 5-year olds in total scored over 8.0 and earned a ticket for the finals in Warendorf.
In the 5-year old Dressage Pony division, Michele Schulmerig rode her Westfalian gelding Der Schlaue Fuchs (by Dornick x Domingo) to an 8.4 score and won the class. Saskia Mende and Top Karentino (Top King x Hogewalds Vadi) placed second with 7.9, followed by Anna Litmeyer on Nabucco (Notre Beau x Dublin) with 7.5.
The fantastic Hanoverian stallion Laudablis (by Lauries Crusador xx x Warkant) was the undisputed winner of the 6-year old Dressage Horse division. Under Oliver Oelrich, Laudablis scored 8.5 and was well ahead of Isabell Werth aboard For Joy (Fidermark x Inselfurst) who scored 8.2. Helen Langehanenberg and Donlino (Donnerbube x Rivellino) placed third with 7.4.
In the 6-year old pony division only the winner of the class, Lisa Albers on Der Feine Lord, was able to secure a berth for the Bundeschampionate. Albers scored 8.0 on her Dressmann x Folklore offspring, while Lea Larissa Faltmann on Don Pappone achieved 7.2 and Leonie Richter 7.0 on Janine WE
Photos copyrighted: Simone Nagel - Courtesy: Bad Salzuflen
Results
5-year old Dressage Horses
1. Riccio - Stamkötter,Martin - 8.8
2. Bohigas W - Wittig,Brigitte - 8.6
3. Dancing Dynamite - Stamkötter,Martin - 8.4
4. Favorit - Kemmer,Heike - 8.2
4. Soleil - Hannöver-Sternberg,Martina - 8.2
6. Dos OW - Bettenworth,Katrin - 8.0
7. Westpoint - Heinze,Sebastian - 7.7
7. Riedinger - Kemmer,Heike - 7.7
9. Don Bailey - Kerner,Stefanie - 7.6
10. Per Sie - Kerner,Stefanie - 7.4
11. Del Cento - Knapmöller ,Ludger - 7.3
12. Wyomi - Egbert,Heidi - 7.0
13. Womenizer - Hannöver-Sternberg,Martina - 6.8
14. San Pedro - 7 Kitzing,Jenny - 6.5
15. Romero 92 - Wiebusch,Marion - 6.2
16. Chany Blue W - Weidlich,Daniela - 6.0
17. Rembrandt Royal - Platen,Julia-Katharina von GER 5.9
5-year old Dressage Ponies
1. Der schlaue Fuchs - Schulmerig,Michele - 8.4
2. Top Karetino - Mende,Saskia - 7.9
3. Nabucco R - Litmeyer,Anna - 7.5
4. Doubtless - Sainte Fare,Noemi de - 7.2
5. Top Nashvil - Hassenbürger,Carlotta - 7.1
6. My Little Silver - Bröckmann,Leah - 7.0
6. Heiligenberg`s Normandie - Deppe,Felicia - 7.0
6-year old Dressage Horses
1. Laudabilis - Oelrich,Oliver - 8.5
2. For Joy - Werth,Isabell - 8.2
3. Donlino - Langehanenberg,Helen - 7.4
4. Rom - Koppelmann,Carola - 7.2
5. Rob Roy - Brakemper,Marlies - 6.8
6. Prinzessin - Hermelink,Anja - 6.5
7. Daquino - Hannöver-Sternberg,Martina - 6.4
8. Dablino - Bunge,Arnd - 6.3
8. Ralph Lauren - Auch,Melanie - 6.3
10. Roberto Cavalli - Piotrowski,Pia - 6.1
11. Ashley W - Meyer,Svenja Irina - 6.0
12. Willow - Bunge,Arnd - 5.9
13. Fay - Nowatschin,Sina - 5.4
14. Roman Lifestyle W - Langehanenberg,Helen - 5.3
6-year old Dressage Ponies
1 Der feine Lord - Albers,Lisa - 8.0
2 Don Pappone - Faltmann,Lea Larissa - 7.2
3 Janine WE - Richter,Leonie - 7.0