What's Happening in the Dressage World?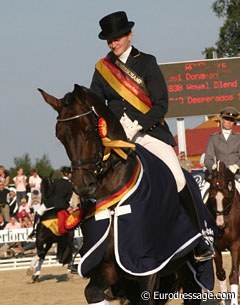 Drakkar Noir, the full brother of the Oldenburg licensed stallion and Bundeschampion Donavan (pictured), has been licensed for the Oldenburg Verband. Bred by Ursula Mittermayer Drakkar Noir is by Diamond Hit x Consul. At the 2005 Oldenburg licensing, Drakkar Noir appeared lame, so the young stallion was sent back home. After a recuperation period, Drakkar Noir was re-presented and accepted on the basis of his outstanding gaits. Monika Mittermayer is currently training the young stallion.
Sönke Lauterbach (32) will be succeeding Dr. Hanfried Haring (64) as general secretary of the German Equestrian Federation (FN). Only in 2009 will Lauterbach take over the reins from Haring, who has been general secretary of the FN since 1987. Lauterbach is currently helping in the organization of the 2004 World Equestrian Games in Aachen and will be involved in the organization of the equestrian disciplines at the 2008 Olympic Games in Hong Kong.
Christine Peters is now the new Dressage Manager at Equine Canada. "I am very excited to continue to work with everyone in the position of Dressage Manager at Equine Canada." Said Peters. Peters, who has been riding since the age of 5, has been with Equine Canada since 2000 as the Administrative Assistant to the Executive Director as well as Assistant to the Olympic disciplines of Eventing and Dressage. Peters then moved to the role of Dressage Coordinator in April of 2005.
The FEI announced the departure of Muriel Faienza, FEI Communications Manager. After 11 years as the head of the FEI Communications Department, Muriel has decided to give her professional career a new scope. She will be leaving the FEI following the 2006 General Assembly to join a Swiss jewel-manufacturing company.
Trakehner Contact Nederland (TCN) has proclaimed Mr and Mrs Smeets "Trakehner Breeders of the Year 2006". Smeets bred the stallion Herzog van Nassau and their mare Habsburg became Elite Mare this year.
Did you see the newly designed website of the Belgian Equestrian Federation? Check it out at www.equibel.be because from now on you can enter for shows online and see which Belgian riders have been selected to compete internationally.
Katharina Winkelhues, former multiple European Pony Champion, has yet another junior riders' horse at her disposal. Last year, the soon to be 18-year old German rider competed Lavinia and Weltmelodie at international junior riders' level. This year,Nadine Capellmann gave her the ride on her 12-year old chestnut gelding Rino(Marco Polo x Erdball xx). Capellmann is owner of both Lavinia and Rino. Winkelhues is the 2004 Rhinelander regional junior dressage champion and she won the European Pony Championships twice in a row aboard Dressmann.