2006 World Cup Finals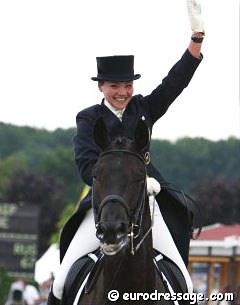 The FEI Dressage Committee has not granted any World Cup Finals' "Wild Cards" this year but instead decided to allow more starting places for Western League riders and grant a reserve place to the runner-up of the Central European League.
No "Wild Cards" have been given this year.
There has been some international confusion about this wild card/additional entry places system. In an FEI press release, the federation clearly used the terminology "starting place based on their standings and qualification criteria," and did not refer to a wild card. Most national federations got confused and did interpret the additional spots as wild cards in their issued press releases.
Only two riders applied for a so-called "wild card" and those are Jan Brink and Andreas Helgstrand. "Because Brink showed the same horse at two shows, and Andreas did not, Brink got a starting place in the Finals," Eva Salomon of the F.E.I. told Eurodressage. The FEI rule says that a rider has to compete the same horse in at least two World Cup Qualifiers in order to qualify for the finals. Andreas competed Don Schufro in the CDI-W Aarhus and Cavan at the CDI-W Neumunster, while Brink won both Neumunster and Stockholm aboard Bjorsells Briar.
"Wild cards are only granted to those who have not been able to do the qualifiers for technical reasons," Salomon explained. "Maybe because a horse has gone lame, or because the rider lives abroad. Those riders can apply for a wild card. This year the FEI chose to give additional places to riders who have been faithful to the organisation and who have competed their horses in the qualifiers. We preferred to go down on the list."
The qualified riders for the 2006 World Cup Finals are:
Title defender:
1. Anky van Grundsven (NED) / Salinero
Western European League:
2. Edward Gal (NED) / Lingh 
3. Isabell Werth (GER) / Warum Nicht FRH
4. Ellen Schulten-Baumer (GER) / Donatha S 
5. Laurens van Lieren (NED) / Hexagon's Ollright
6. Imke Schellekens-Bartles (NED) / Sunrise 
7. Ann Kathrin Linsenhoff (GER) / Wahajama-Unicef 
8. Laura Bertholsheimer (GBR) / Douglas Dorsey 
9. Lone Jörgensen (DEN) / Ludewig G
Central European League:
10. Elena Kalinina (RUS) / Royal Black Label
USA League:
11. Arlene Page (USA) / Wild One 
12. Leslie Morse (USA) / Tip Top
Canada League:
13. Cindy Ishoy (CAN) / Proton
Additional riders granted a starting place based on standings and qualification criteria:
14. Louise Nathhorst (SWE) / Guinness 
15. Jan Brink ( SWE) / Björsells Briar 
16. Wayne Channon (GBR) / Lorenzo CH 
17. Jeroen Devroe (BEL) / Paganini 
18. Natalie zu Saeyn-Wittgenstein (DEN) / Rigoletto 
Reserve: Inessa Poturaeva (RUS) / Zorro
Photo copyrighted: Astrid Appels/Eurodressage
Related Links
Five Wild Cards Distributed for 2006 World Cup Finals
Back to the 2006 World Cup Finals Index