Danish Dressage News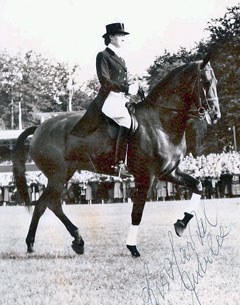 The Danish Hestebladet magazine reported that Lis Hartel celebrated her 85th birthday on March 14, 2006. Lis Hartel won silver at the 1952 Olympic Games in Helsinki and at the 1956 Olympics.
She also won the unofficial World Championships in Aachen in 1954 and became Danish National Dressage Champion seven times.
Lis Hartel's equestrian career was one of true heroism. In 1944, at age 23, Hartel was paralysed by polio. Gradually she reactivated most of her muscles, though she remained paralysed below the knees. After three years of rehabilitation, she was able to compete in the Scandinavian riding championships and finished second in women's dressage. In 1952, she was chosen to represent Denmark in the Helsinki Olympics. Even though she had to be helped on and off her horse, she won the individual silver medal.
She is the first Scandinavian women entered into The International Women's Sports Hall of Fame in New York, and she was the first equestrian woman to win an Olympic medal. Hartel's son-in-law Per Siesbye won the Danish Championship in Show jumping six times, and Torben Suhr who is married to Per Siesbye's daughter Nicole, has won the Danish Championship in showjumping two times.
After her own career as dressage rider, Lis Hartel has been activ as trainer, coaching for instance former Olympian Bent Jensen and Nils Haagensen, 1980 European Champion in Three Day Eventing and participant at the 1996 Atlanta Olympic Games in dressage.
Photo Credit: IOC Olympic Museum Collections
Related Links
Denmark's Hestebladet - Hesteforum
Google Image Search Lis Hartel