2006 Piaff Forderpreis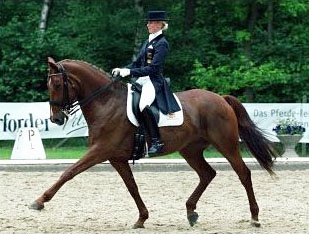 Jessica Werndl has won the selection trial in Warendorf for the 2006 Piaff Forderpreis show circuit. Forty riders were entered to compete, thirty-three showed up and eleven have been selected to participate in the 2006 Piaff Forderpreis circuit.
Werndl won the slection trial with Duchess (Davignon x Grenadier x Werther), scoring 69.19% and placed second with the mare's full brother Duke (68.54%) while Jessica's brother Benjamin Werndl ranked third with Sam (67.97%).
Also qualified for the circuit are Dominik Buhl with Moonlight, Helen Langehanenberg
with Princeton L, Anna-Katharina Lüttgen with Duvalier and Gina Royal OLD, Svenja Irina Meyer with Momo, Jill Mieleszko with Hera; Falk Stankus with Lancelot,
Dirk Viebrock with Don Perignon; Julia von Platen with Capuccino and Rania-Stephanie Wipprecht with Odette.
It is the sixth year that the Piaff Forderpreis takes place. Ellen Schulten-Baumer has won it three times and she is currently a German A-team member. The other winners were Maren Frychel (2004) and Sonja Bolz (2005).
Related Links
Ellen Schulten-Baumer Wins First Piaff Forderpreis Ever 
Riders Selected for 2004 Piaff Forderpreis Circuit 
Jan Peeters Launches Dutch Version of German Piaff Forderpreis