Australian Dressage News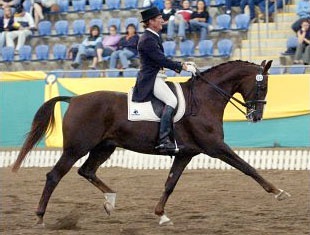 Following a busy end to 2005 including the National Dressage Championships and three CDI-W World Cup competitions, the Australian Dressage Selectors are pleased to announce the updated Australian Dressage Squads for 2006.
Some new young horses join the B2 Squad. Rising stars Cinderella and Port Said 10 have proved themselves successful in Grand Prix competition earning a place in the A Squad.
A win at the World Cup Pacific League Final cemented a place in the A Squad for Heath Ryan with Greenoaks Dundee. Kristy Oatley and Paula Price continue to hold their positions on the A Squad.
Sadly crowd-pleasers Crisp and Centaur are stepping down from the limelight. Ricky MacMillan recently decided that her 2000 and 2004 Olympic mount Crisp would no longer be available for selection. Ann Serrao retired Centaur at the recent "Dressage with the Stars" where Ulla Salzgeber rode him in a final Freestyle performance.
The National Dressage Squads will continue training camps with National Training Advisor Ulla Salzgeber, with the next camp scheduled for March. The focus for 2006 turns to preparation for the World Equestrian Games in Aachen (Germany) in August where Australia hopes to field a full Dressage Team.
All riders are now chasing Certificates of Capability to qualify for WEG. Each Combination must achieve 64% twice in a Grand Prix under an FEI O-Level Judge (Judge not from the same nation) under the WEG qualification criteria. In addition, Australian Selection Criteria require 65% in a Grand Prix on one occasion from an O-Level Judge and a 67% overall score. Greenoaks Dundee and Port Said 10 have achieved the qualifying scores, with Cinderella and APH True Seville hot on their heels having met the FEI requirements at this stage.
Congratulations to all the Riders and to the Owners who support the sport.
A Squad 
Horse Rider Owner
APH True Seville - Paula Price - Paula Price
Cinderella - Matthew Dowsley - Claudia Harper
Don Bolero - Kristy Oatley - Kristy Oatley and Rosalind Oatley-Lambert
Greenoaks Dundee - Health Ryan - Clyde Wunderwald
Port Said 10 - Mary Hanna - Mary and Rob Hanna
Quando Quando - Kristy Oatley - Kristy Oatley and Rosalind Oatley-Lambert
A Squad Holding List
Amoucheur - Kelly Layne - Parkdale Australia
B1 Squad
Neversfelde Feuer - Maurice Bruce - Jane Bruce
B2 Squad
Chatham Park Jac - Rachael Sanna - Rachael Sanna and Nerida Downs
Classico II - Glennis Barrey - Glennis Barrey
Donna Carrera - Rozzie Ryan - Susan Duddy
HP Frontier - Judy Dierks - Daniella Dierks
Northern Invader - Vickie Robertson - Vickie Robertson
Oscar B - Kate Taylor-Wheat - Kate Taylor-Wheat
Victory Salute - Matthew Dowsley - Carolyn Lieutenant
Welfenadel - Lesley-Anne Taylor - Lesley-Anne Taylor
Weltklasse - Lesley-Anne Taylor - Lesley-Anne Taylor
Weltspiel - Lyndal Oatley - Lyndal and Carol Oatley
Whisper IV - Brett Parbery - Kerry Mack