Hanoverian Breeding News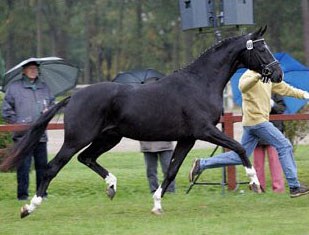 On Thursday January 12, a federal employee won the popular Buchard-Müller-Prize in Verden: Celle State Stud Stallion Dancier by De Niro x Lancier (breeder: Ekke Thaden, Butjadingen) was awarded best stallion of all breeding stallions born in 2002.
Last year, the top-class winner of the 2004 stallion licensing won his stallion performance test.
It was the third time that this decision was made on the occasion of the Verden Indoor Championships. Locksley II (formerly Lexus) by Londonderry/Weltmeyer (breeder: Andrea Eilfort-Böcker, Ankum) was the only other sire competing against the successful shiny black youngster. At last year's autumn auction, the chestnut stallion was sold for 260,000 euro to France, and he is now a leasing stallion at the Celle National State Stud. He captivated the audience with his powerful steps and his eager, forward going movements.
Since Locksley II could not convince in his walk on this day, the noble black Dancier who had won the show class in the morning (final score of 8,6) won this award. With a margin of 20 points, a dressage score of 158,46 and a total score of 142,17 points, Dancier was the convincing winner of his stallion performance test in autumn last year.
Celle State Stud Stallion Londontime by Londonderry/Walt Disney (breeder: Christina Hellwege-Tiedemann, Oberndorf) was the third competitor, but due to an injury, he could not compete.
On the occasion of the delegates' conference of the Hanoverian Society, the successful breeder will be awarded the Burchard-Müller-Prize.
Related Links
Royal Blend, Best Hanoverian Stallion Born in 2001
Re Primeur, Best Hanoverian Stallion Born in 2000 
Earl, Best Stallion Born in the Year 1999
De Niro x Lancier Son 2004 Hanoverian Licensing Champion