2005 Young Riders World Cup Finals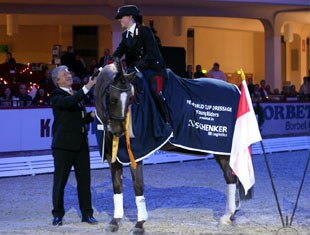 The first Final of the FEI World Cup Dressage for Young Riders took place last week-end in Frankfurt (GER) and was won by Valentina Truppa and Don Rico 12 who scored 75,650% in the Kür final competition. Jessica Werndl (GER) and Duchess, who were in the lead
during the qualifying competitions finished in the runner-up position with 75,500%, followed by Emma Kanerva (FIN) and Atoftens Volanti on 73.150%.
Valentina Truppa was thrilled to win the first ever FEI Young Riders World Cup. "I can't believe it, it's incredible!" she said after a clinching overall victory by a whisker from Jessica Werndl. "The World Cup is a great event and I'm so happy to win it. As Jessica is the European Champion I really thought she would win," she said of her rival since junior days.
Valentina is the daughter of FEI 'O' judge Enzo Truppa and had to contest Thursday's first leg of the competition on her own as her father and trainer was officiating at the Olympia FEI World Cup qualifier. She has ridden her 14-year-old Baden-Wurttemburg gelding Don Rico since '99 and competed at every Championship level every year with him since 2000, winning a silver medal at last year's Junior European Championships and a bronze this year at Young Rider level. "He was best today", she commented after the freestyle final, in which she rode to a 50's themed programme. " He is a very, very good horse for the freestyle, he goes better than in the normal tests so I really think he likes music."
The eight best combinations of the FEI European Dressage Championship were qualified to compete at the Final, together with the best combinations from Canada, USA and Brazil. Unfortunately, the Japanese, Australia and New Zealand riders were not able to compete due to quarantine issues. The 2006 Final is already confirmed to be held in Frankfurt, thanks to the generous support of Schenker Logistics Deutschland AG, who covered the flight and transport of the horses participating to the Final. The 2006 qualification procedures will be established at the beginning of the year.
The Jury was composed of experienced international judges: Minako Furuoka (JPN), Béatrice Bürchler-Keller (SUI), Mariette Whitages (BEL), Dr Evi Eisenhardt (GER) and Gary Rockwell (USA)
This new FEI initiative aimed at the promotion of young dressage riders worldwide came to life thanks to the support of Schenker Deutschland AG and the flawless organisation and great sense of hospitality of Ann Kathrin Lisenhoff and Klaus-Martin Rath.
Related Links
Scores 2005 CDI-W Frankfurt
Hamilton to Represent the U.S.A. at the FEI Young Rider World Cup 
Julie Watchorn Invited to 2005 Young Riders World Cup
Jan Andreas Viebrock Wins 2002 Euro Future Cup Finals
Nicole Giesen and Slow Fox V Win 2001 Euro Future Cup