What's Happening in the Dressage World?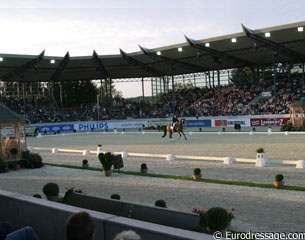 For the ninth time, the CHIO Aachen has been proclaimed "Best Dressage Show of the Year" by the international equestrian book "L'Annee Hippique". The 2005 European Dressage Championships in Hagen take second place and the CDI Wiesbaden finished third. No show is able to attract such big crowds as Aachen. This year 336,000 people visited the show. The 2006 CHIO aachen will take place 17th to 21st May 2006 and is followed by the 2006 World Equestrian Games in Aachen.
At the Champion's Ball of the German Olympic Equestrian Committee (DOKR), theGerman Rider's Cross in gold, the highest medal to be won for an equestrian person in Germany, has been bestowed upon Ullrich Kasselmann. The 57-year old Kasselmann was especially praised for his monumental effort of organizing the 2005 European Dressage Championships in one month's time. In the 1960s, Kasselmann was an auction rider for the Hanoverian Verband in Verden. In the 1980s he established an auction of his own with Paul Schockemohle (P.S.I. Auction) though lately he has also been focusing on event management and the organisation of dressage shows. Previes recipients were, for instance, Ernst-Albert Holzapfel, Hendrik Snoek, Hans Hoffrogge, Peter Wallner, Ruth Klimke, and Werner Ernst.
I-judge Dieter Schüle celebrated his 65th birthday on November 21, 2005. Schüle, who is a pharmacist by profession, has been an international dressage judge for many years. The judging highlight in his career was judging at the 2004 Olympic Games in Athens.
Heike Kemmer's equestrian centre Amselhof Walle is closing its stallion station and has moved its stallions to studs in the vicinity. Don Laurie (Don Schufro x Lauries Crusador xx) will be standing at Gerd Sosath's, but the 3-year old Dean Martin (Donnerhall x Rubinstein) will stay in training with Kemmer as dressage prospect. Unfortunately, Competent (Compliment x Gluckspilz) passed away recently.
Yet another sport horse auction in The Netherlands, Expo Talent Sale; his time one organized by jumping brothers Gerco and Wim Schroder, Jeroen Dubbeldam, equestrian management director Chris van Dam and dressage guru Sjef Janssen. Theprice highlight was the mare Feodora, (by Ferragamo x Riverman). Feodora sold for 200,000 euro via the phone to a client of -- guess, guess!! -- Sjef Janssen. Silver Spring Farms in Oregon purchased the lovely mare and will keep it in training at Stable van Grunsven in Erp, The Netherlands. The 2004 World Young Horse Championship's silver medallist Magic Rodrigo sold for "only" 80,000 euro. The name of the new owner of Rodrigo was not released.
On the Dressage Today there is an old report of the Florida Dressage Forum held in March 2005 at Cesar Parra's farm in Jupiter, Florida. Raymond Withages was guest trainer there and he stressed some important points that we want to reiterate here: "dressage is a discipline in which the horse and rider move and think together. If you cannot think, you cannot be a good rider." Be aware of what you're going to do: 1. Prepare for what you're going to do (knees relaxed, eyes forward, hands steady, seat in the middle). 2. Seek perfection by knowing what is correct (this is where a good trainer helps). 3. Persevere, and remember that the biggest challenge is usually in your head." We love that final remark, which is the basic truth. The complete report can be read here
Kyra Kyrklund is holding a lecture demo at Merrist Wood(Guildford, Surrey, UK) on January 25, 2005. The demo starts at 7.30 PM till 10.30 PM. Kyra's lecture demos are in great demand all over the World. "She is a great communicator with a super sense of humour – which in combination with her exceptional talent and professionalism in training horses and riders make her demos an invaluable experience," a previous spectator commented. Tickets can be purchased online at www.kyrak.com
Nadine Capellmann is looking for a name for her newest acquisition. At the Verden Elite Auction in October, she purchased a four-year old Hanoverian mare by Waterford out of a Falkland dam. "She has a super walk and canter and a very elastic trot," Capellmann stated. Nadine has more reason to celebrate because she got back into the German A-team, this time with Elvis VA, her ticket for the 2006 World Equestrian Games hosted in her home town Aachen.
And just like with tomato soup with meat balls, we'll keep the most controversial bit (the meat balls) for last. The battle Janssen vs. St Georg + spin-off has not yet come to a full stop. Janssen has filed a motion to "abdicate" judge Christoph Hess as I-judge at the FEI. Janssen claims there is a conflict of interest with Hess judging Anky van Grunsven at international shows and at the same time him 'supporting' the Dressur Pervers article which was published in St Georg in August. German judge Hess gave St Georg a written statement in which he confirms that he asked Van Grunsven to stop riding Salinero in the rollkur during the warm up at the 2004 CHIO Aachen after several complaints from spectators who considered Anky's schooling session cruel. According to the German Equestrian Federation, Janssen's malcontent with Hess is caused by several low notes (a zero) he gave to Anky. Janssen, however, stresses that it's not right that "a Grand Prix judge, who can judge Anky at show, is involved in a cival lawsuit against her." (Source: Welt am Sonntag). More soup anyone?