Oldenburg Breeding News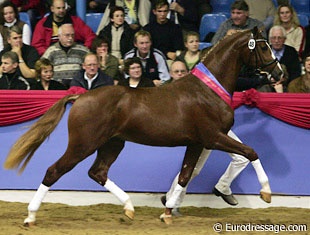 The Oldenburg Stallion Licensing Committee must have felt some pressure trying to live up to the quality and top auction results that were established at the 2005 Hanoverian Stallion Licensing in Verden one month ago,
because there can't be another reason for naming the chestnut Kaiser Franz x Lefevre colt the Champion of the 2005 Oldenburg Stallion Licensing which took place in Vechta, November 24-26, 2005. Bred by Thomas Staufenbiel and presented by Gestut Sprehe, the champion was a chestnut colt by Kaiser Franz (Krack C x Rousseau) out of Jeanne d'Arc II (by Lefevre x Zeoliet).
This young stallion is slightly croupe high and has a very weak back. However, he moves with much swing in the trot and this suppleness and suspension in the trotwork must have been convincing enough for the licensing committee to make him a Champion. The walk was not always as pure and with big overstep. Especially after three days of licensing, the colt lost quality in the walk. He did an OK jump, but often rushed much over the fences showing little back usage, which was very obvious in his basic gaits.
Furthermore, his obscure pedigree with Kaiser Franz, a stallion who used to be at Sprehe and later on at Thomas Galmbacher's Gestut Rosenhof in Hessia (in 2004 but now he has disappeared from his stallion collection) and Lefevre (part Dutch warmblood with Zeoliet in the line) was no proof of confirmed quality producing lineage. On the one hand, this "exotic" blood could be an interesting influx for Oldenburg, but on the other hand most breeders like to see quality lines that guarantee more breeding success.
According to licensing committee member Wolfgang Schleppinghoff, the Kaiser Franz was the champion because of his "extraordinary swing through the body." In our opinion, Oldenburg chose marketing above quality and made this colt champion just because he would be the only top ranked premium stallion offered for sale at auction. Vechta had, of course, much to live up to with Verden selling its champion for 800,000 euro to Paul Schockemohle/Blue Hors. Sissy Max-Theurer from Austria purchased the Kaiser Franz for 420,000 euro but you can simplistically subtract 110,000 euro from that price as Max-Theurer sold her paint Oldenburg (by Semper x Pablo) for a 110,000 euro. The Kaiser Franz will be up for stud in Germany (location not yet determined) and will later on become Victoria Max-Theurer dressage horse.
The real champion in our eyes was the Reserve Champion of the licensing, "First Final," a Furst Heinrich x Argentinus x Barsoi xx x Grandios colt bred by Andreas Klinker and presented by Tony and Sarah Pidgley of Kilbees Farm in Great Britain. This bay colt has a very good walk and a super trot, always active behind, flexing his hocks well and stepping under the body all the time. His jump was outstanding (thank you Argentinus!). This reserve champion will be standing at stud at the Landsgestut Warendorf, and hopefully, one day, we'll see him in the show ring under Damian Hallam.
The best jumping bred Oldenburg landed a third place in the premium ring. This chestnut Ludwig von Bayern x Acord II x Lord Liberty colt had phenomenal jumping capacity always clearing the fences with 20 to 40 centimeters extra space between himself and the top rail. Adding a bad walk and a reasonable trot to that superb jump was enough for him to became second reserve champion. This Ludwig von Bayern offspring was bred and presented by Gerd Sosath from Lemwerder, Germany.
Maybe the most interesting young sport horse stallion at this licensing was number four, a Florestan x Donatelli x Star Regent xx x Garibaldi II. Bred and presented by Oliver Kotschofsky, this Florestan had the best hind leg from a dressage rider's perspective. He has a superb walk with much overtracking and his trot is electric, super engaged, swinging and nicely angled under the body at all times. The only minor remark could be that this chestnut needs a bit more freedom in the shoulder, but with some training this horse will get to carry his weight more on the hindquarters and lift up the whithers. We weren't the only ones who saw top dressage potential in this young star, Paul Schockemohle saw it too. For 60,000 euro he purchased this stallion and we'll probably see this lovely young stallion back in the P.S.I. auction next year.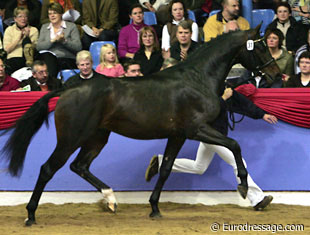 Finishing in fifth place in the premium ring was a delightful Diamond Hit x Santander x Freiherr x Tiro colt bred by Hans and Britta Scherbring and presented by Paul Schockemohle. This dark bay colt has a beautiful uphill conformation and a lovely face. In trot and canter he is always nicely flexing the hocks and moving with much cadence, though the hind leg could have been a bit more electric.
Not everyone was able to follow the judging of the licensing committee this year. For instance, why were the King Arthur x Andiamo (weak behind) and the Dormello x Landadel (thoroughbreddy pony instead of stallion prospect) premium stallions? I also raised my eyebrows for the licensing of the Colander x Landadel, the Danny Wilde x Rohdiamant, the De Koonig x Landadel, the Dormello x Silvio, the Dr Doolittle x Sandro Hit (very naughty stallion), the Rosario x Akzent II, the Rubin Royal x Bordeaux II, and all of the Sandro Hits which were of poor quality this year, with exception of the Sandro Hit x Rubinstein who moved really well, but had a big off-day during free jumping. Hopefully, the licensing committee will be a bit more selective and put quality instead of commerce on first place. 
Results Premium Stallions
1a - Kaiser Franz – Lefevre – Zeoliet, b: Thomas Staufenbiel, O: Gestüt Sprehe
1b - Fürst Heinrich – Argentinus – Barsoi xx, B.: Andreas Klinker, O: Sarah & Tony Pidgley, Great Britain
1c - Ludwig von Bayern – Acord II – Lord Liberty, B.: Gerd Sosath, O: same
1d - Florestan I – Donatelli – Star Regent xx, b.: Oliver Kotschofsky, O: same<
1e - Diamond Hit – Santander H - Freiherr, B.: Hans and Britta Scherbing, O: Paul Schockemöhle
1f - Rohdiamant – Grundstein II – Akzent II, B.: Harli Seifert, O: same
1g - King Arthur/T – Andiamo – Argentinus, B.: Dr. Beata Hoemberg. O: Paul Schockemöhle
1h - Quidam's Rubin – Carthago Z – Grannus, B.: Franz-Josef Broxtermann, O: Gestüt Sprehe
1i - Balou du Rouet – Sandro – Arsenik, B.: Otto Strelow, O: Horst Rumpf
1j - Dormello – Landadel – Aktuell, B: Berend-Reinhard Haschen, O: Blue Hors Stud
Related Links