Austrian Dressage News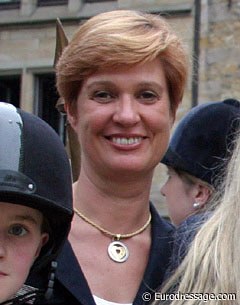 Elisabeth Max-Theurer, president of the Austrian Equestrian Federation, has accepted the position of spokesperson and vice president on the supervisory board of the Spanish Riding School in Vienna
. As of November 24, 2005, she has been appointed in this position by Josef Pröll, the Austrian minister of agriculture.
Max-Theurer will be the official representative for the Spanish Riding School and will assist in the development of the riders at the School and in the breeding program, which is tightly run with the Lippizaner Stud in Piber.
"The Spanish Riding School plays a vital role in the cultural heritage of Austria," Max-Theurer said. "It is very important to me that we can improve this 430 year old institution with a professional team in order for it to have a successful future."
Elisabeth Max-Theurer became European Dressage Champion in 1979 and Olympic dressage champion in 1980 aboard Mon Cherie. She married dressage trainer Hans Max in 1983 and lives in Castle Achleiten in Rohr, Austria, with her two children Victoria and Johannes.
Photo © Astrid Appels
Related Links
Sissy Max-Theurer, Auction Shopper Looking for that Special Thing
Victoria Max-Theurer Qualified for the 2004 Olympic Games 
Weinrausch Sold to Sissy Max-Theurer