Dutch Dressage News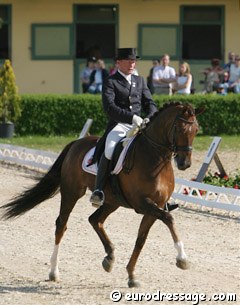 The Dutch A and B-team have undergone a couple of changes. Most interesting change is the resubmission of Alex van Silfhout and Nimbly into the A-team. Sjef Janssen, Dutch Chef d'Equipe, gave van Silfhout the boot this summer
, referring the Lunteren based rider back to the B-team because he couldn't maintain his top form throughout the outdoor season.
Van Silfhout, however, ground his teeth and persevered, taking revenge by riding top scores at the CDI Marienske Lazne in August (70,583%), the CDI Saumur in September (70.375%), and winning the national Grand Prix in Leeuwarden with 71.18% last week, only two months after he got downgraded to the B-team.
Current A-team members are: Kirsten Beckers (Broere Jazz), Patricia Callaghan (Joy), Edward Gal (Lingh and Gribaldi), Laurens van Lieren (Hexagon's Ollrigh), Sven Rothenberger (Barclay II), Imke Schellekens-Bartels (Sunrise), Alex van Silfhout (Nimbly) and Anky van Grunsven with Salinero and Krack C. The latter horse has not competed this 2005 outdoor season at all due to an injury.
The current Dutch B-team is constituted by Kirsten Beckers (Broere Montecristo), Leida Collins-Strijk (On Top), Antoinette Falandt (Jarwo), Sonja Gademann (Jup), Stephanie Peters (Jeff), Johan Rockx (Tango), Roger Schulkens (Monarch), Madeleine Vrees (Madorijke) and Thamar Zweistra (Hexagon's Kyrain). Neither Jarwo nor Jup have been competed this 2005 show season due to injuries. Jarwo lost his spot in the A-team because of one year of non-activity and got submitted to the B-team. Theo Hanzon and Idar lost their spot on the B-team completely due to non-performance.
Photo copyrighted: Astrid Appels/Eurodressage
Related Links
Imke Schellekens and Sunrise in Dutch A-Team 
Van Lieren and Van Silfhout Into Dutch A-Team 
Johan Rockx Back In the Picture with Tango