2005 VWF Prinsenstad Dressage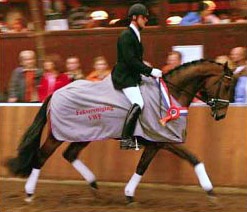 Patrick van der Meer and his KWPN bred Vanquir became the 2005 VWF Prinsenstad Dressage Champion at the annual young horse show at the Prinsenstad Equestrian Center in The Netherlands. VWF Prinsenstad Dressage is a Dutch regional dressage show
which organizes a traditional, annual 3-year old "Talent Search". Three-year old dressage horses are being presented by their riders and six horses are chosen for the finals, in which a test rider names the champion.
The 2005 Prinsenstad Champion is the bay gelding Vanquir, ridden by Patrick van der Meer. The Highline x Utrecht offspring received a 10 from test rider Remy Bastings, who described the horse as "a very good lad". Seven years ago, Patrick van der Meer won the VWF Prinsenstad Dressage with another Highline offspring named Norman (Highline x Roemer). "It's not so that I only want to ride Highlines," Van der Meer told VWF reporter Karin De Haan. "My wife and I buy interesting foals and when I see a Highline is for sale, I will pop over to take a look at it."
The runner up was Vanquisch, an Obelisk x Democraat offspring, bred by Joyce Lenaerts and ridden by Evert de Jong. "He has a super mind," De Jong told De Haan, "and he gives you the feeling he can do everything. I don't work him that much. I just ride him three times a week for 20 minutes. He offers me everything, but he's just three and he needs his time to develop.
Valenciano, a Gribaldi x Grafiet bred Dutch warmblood finished in third place under Gerdine Maree.
Photo courtesy: VWF - copyright: Stephanie van Houten
Results Finals
1. Vanquir (Highline x Utrecht) - Patrick van der Meer
2. Vanquisch (Obelisk x Democraat) - Evert de Jong
3. Valenciano (Gribaldi x Grafiet) - Gerdine Maree
4. Vito VDL (Polansky x Rohdiamant) - Jennifer Scharroo
5. Vlicka (Royal Dance x Ferro) - Japke Kramer
6. Voriose (Gribaldi x Balzflug) - Suzanne Flantua
A complete story with photos about this interesting dressage show can be found at Karin De Haan's website: www.vwf.nl