2005 Bundeschampionate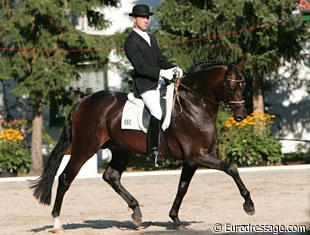 In the absence of Damon Hill, Donnerball, FBW Dejavu and the KWPN Totilas -- the competition that beat San Rubin at the 2005 World Young Horse Championships -- there was nothing in the way of Dr. Ulf Möller
and the Oldenburg stallion San Rubin to freewheel to the 2005 German National Young Horse Title.
In the qualifier, the pair placed 4th with an 8.4, so the victory in the finals was actually not a freebie. Möller had to be fully focused in order to steer San Rubin with perfection through the ring. The bay stallion, by Sandro Hit x Rubinstein, was ridden in a very regulated rhythm with a consistent balance and cadence in the trot work. In the canter, the simple changes were very good.
Nevertheless, some minor imperfections crept into the ride. San Rubin had a slight tendency to pace in the collected walk before the walk pirouette. He made a transition from walk to canter instead of to trot. In the extended trot and counter canter, he tends to get wide behind to find a better balance.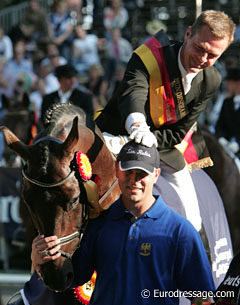 The judges praised San Rubin for his "looseness and good contact with the bit. The uphill canter is outstanding and the walk is well regulated and loose in the body." With a score of 9.3, Möller won his sixth Bundeschampion's title in his career.
On the sideline and never leaving San Rubin's side were his owners Stephen and Laurie Browning from California, U.S.A. The Brownings purchased San Rubin at the 2004 PSI Auction and young Stephen has been working at Hof Kasselmann this summer.
"We've been so blessed these three weeks," Laurie Browning told Eurodressage. "First with Floriano [Steffen Peters' horse, best placed American in Aachen] and now winning here with Rubin." The Brownings are flying San Rubin home to California on September 21st and will be taking a long a San Rubin colt, which then named San Ullrich, of course referring to Ullrich Kasselmann.
Funny Girl Fit for Fun
I'm sure Norwegian Isabel Bache never even dared to expect that she was going finish in a medal position at the 2005 Bundeschampionate. With Britta Nikolaus' Hanoverian mare Funny Girl (by Federweisser x Alonso), Bache just made it into the Finals by winning the Consolation Finals. She was the fourth starter to go in the 5-year old division, but was the first one to achieve a 9.0 score which put her in silver medal position.
Bache, who trains with Holga Finken, rode a super trot out of the fabulous Funny Girl. The mare is not very impressive looking; one can compare her to a bony super model.. Beautiful in their thinness. She's narrow, not very uphill, doesn't stand too high, but she moves the way a dragonfly flies over a pond: hovering. In trot, she flows over the surface with so much cadence, bounce, rhythm and power. Her second extended trot was the best of the day and it reminds one of the extensions Heike Kemmer's Bonaparte can do. The canter work could have been rounder and more uphill and the walk had to show more overtrack. The score of 9.0 was a bit generous, but Funny Girl's willingness to go forwards and her work ethic make her valuable. Funny Girl is a mare fit for fun!
Laudabilis, Key Word in Warendorf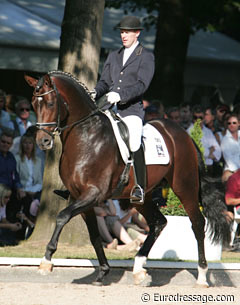 Two years ago in the winter of 2003, your Eurodressage editor and her horse show friend Thomas Bach Jensen drove in dreary, cold weather to Wettringen, Germany, to check out this stallion that had heard of word of mouth. A young Hanoverian by Lauries Crusador xx x Warkant; bloodlines that aroused our interest straight away. Mathieu Beckmann welcomed us at his farm and Elisabeth Nieheus-Rembeck trained the then 3,5 year old Laudabilis in the indoor school. We were very impressed about the then unknown stallion, who had only bred to some mediocre mares.
Two years later, Thomas and I take a bit of pride in the fact that we spotted Laudabilis' talent as a sire and sport horse so early in his career, as the bay made his big national break through this year.
In 2004 he got to breed to better quality mare, with the result that the 2005 crop of Laudabilis' foals are of outstanding quality (two price highlights at the Munster Elite Auction). He also made a successful debut to the show ring under Oliver Oelrich, qualifying for Warendorf early in the 2005 show season.
At the Bundeschampionate he finished third in round one and maintained that bronze medal position in the Finals on Saturday. Laudabilis entered the ring quite tense and unfocused He was neighing and his lower lip trembled, but he kept a good rhythm in trot and was still on the job though he looked around. His walk showed good overtrack, his canter was well regulated, clear in rhythm and ground covering with excellent potential for collection. The horse was not as supple on the left hand as he was on the right.
Laudabilis probably looked the greenest of all 5-year olds in the Finals, but he had the most potential of them all. This horse has an outstanding conformation, long legs and the frame to be an FEI caliber horse. If he had been a bit less tense in the beginning of the ride and showed some more suppleness on the left hand, this horse could easily have won the title. "It's only his fourth show, we want to take it easy," Beckmann said. We surely hope that this talent gets the time to blossom later in his career! One thing is certain, every where you walked at the DOKR equestrian centre, "Laudabilis" was the buzz word in the conversations.
Sideline Comments on the 5-year old Finalists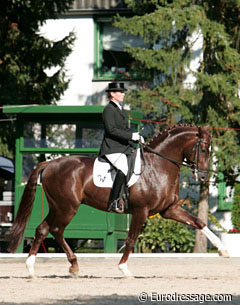 Isabell Werth on For Joy
It must be said. If you feel like schooling your horse in a show ring, instead of showing, than it's better to stay home. Isabell Werth, 1996 Olympic Champion and an example for many young dressage riders, did not set an example riding her delightful For Joy (Fidermark x Inselfurst). She was pushing her horse to the limit in the warm up and seemed to have forgotten that the show ring is a place where you show current form. Mrs Werth stormed into the arena in seventh gear. Her horse looked distressed and was moving so spectacularly in front that the 5-year old could not keep up behind. His front legs flew in the air, but his hind legs simply could not follow. There was tension in the trot work and the horse frequently lost his balance.. It was such a big pity to see such a talented horse being ridden so badly. The judges still awarded the ride with an 8.5, but when judge Christoph Hess said that "they desired to see a more natural collected trot" the audience clapped. The 8.5 was a disgrace for the other riders who put in harmonious rides but scored lower due to a small mistake here and there.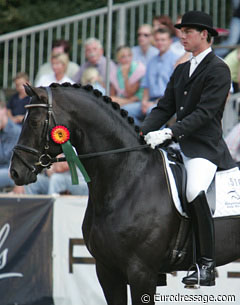 Stefan Wolff and His Highness
The best counter example to Isabell Werth's below the belt ride was Stefan Wolff's go on the Hanoverian Licensing and HLP Champion His Highness (Hohenstein x Donnerhall). This horse was harmonious, light, on the job, and co-operating with his rider. A true example of real riding, of classical riding. His Highness might have lacked some general pezzaz or brio in his gaits, Wolff played it safe by putting down an errorless test. His Highness has the quality gaits and the frame for the international FEI work and this horse will last for the future!
Mirelle van Kemenade-Witlox on Decor Dreamcatcher
This Dutch pair did go through the effort of getting a German rider's license to show her German bred horse, Decor Dreamcatcher (Day Dream x Rubinstein). One week before the Bundeschampionate, they won the Dutch Pavo Cup Finals in the 5-year old division as Dreamcatcher is also a Dutch NRPS licensed breeding stallion. In Warendorf, the pair impressed with outstanding canter work. They placed 11th.
Dr Ulf Möller and his wife Eva Möller-Nolden
A Little Tenderness in Warendorf.
Text and Photos copyrighted Astrid Appels/Eurodressage - No reproduction allowed without permission
Back to the 2005 Bundeschampionate Index