2005 Bundeschampionate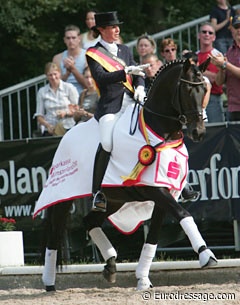 Lately I've been told that lightning doesn't strike twice on the same spot in a breeding programme. Usually a mare only produces one world class offspring and the rest that preceded or follows will not be of the same super star quality.
Everyone who witnessed the 6-year Dressage Horse Finals at the 2005 Bundeschampionate in Warendorf, Germany, has seen proof that this idiom does not hold in the dressage world. A mare can produce two superb foals in a row, one even exceding the quality of the other.
Winning the 6-year old Dressage Horse division at the Bundeschampionate was the Trakehner stallion Kaiserdom. The black stallion by Van Deyk x Gajus followed in his bigger brother's footsteps claiming the same title as "bro" Kaiserkult did under Dorothee Schneider in 2004.
The 6-year old Finals was a Trakehner Festivity, as a matter of fact. Trakehner blood was flowing in the veins of four out 14 finalists, proving that Trakehner refinement is trendy and much needed to get the refinement, stamina and perseverence for a top level dressage horse.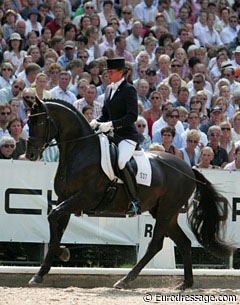 Under Kathrin Meyer zu Strohen, Kaiserdom ran a beautiful test. Upon entering the ring, the horse immediately made a big impression with his natural uphill carriage. There was a light contact with the bit and he smoothly performed the traversal movements. The canter work was balanced and only the fourth flying change tampered with the overall perfection of the ride.
Judge Christoph Hess praised the horse for his "outstanding cadence and balance, especially in the traversal movements. The tempo in medium and extended trot was regulated with much feeling, but the horse could show bit more relaxtion and looseness."
In general, Kaiserdom could move the hind legs more under the body, but his engagement was sufficient and well regulated. He sometimes holds himself fixed in the topline, especially the neck, and could be a bit more relaxed and swinging over the back, but this is just nit picking a superb ride. Kaiserdom, who is owned by Rainer Scharf, is an international calibre horse and one can only hope to see him in the FEI ring as soon as possible.
Belissimo M and Insterburg Win Silver and Bronze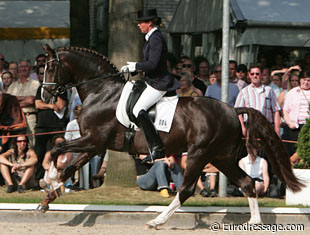 It was a very busy weekend for Kathrin Meyer zu Strohen. With three horses qualified for the Bundeschampionate, and three of them making it to the Finals on Sundays, Meyer zu Strohen had to hop from one horse onto the other, just like Heiner Schiergen in the 5-year old Finals. Meyer zu Strohen opened the 6-year old division with a ride on the Oldenburg gelding Donic (by De Niro), a horse she took over from Birgit Wellhausen-Henschke. Donic finished fourth last year and this year he scored 7.9 with his new trainer.
Donic is a good dressage horse, but Meyer zu Strohen was betting on her other two rides for the title. With Belissimo she won the group one qualifier with 9.2 and with Kaiserdom she led group two with 8.9. Her supremacy with those two horses was undeniable but the judges and audience seemed to favour Belissimo. The Rhinelander stallion Belissimo (by Beltain x Romadour II) became Bundeschampion two years ago under Holga Finken, but is now being schooled by Meyer zu Strohen
Tipped to be the favourite for the title, Belissimo did not fulfil this role. The horse was presented in a fantastically light frame with a soft contact between the rider's hands and horse's mouth. The trot work was good, but not brilliant. He made a mistake in rhythm in the two extended trots and though the walk showed much overtrack, it could have clearer 4-beat rhythm.
The canter work, however, was superb. Belissimo is uphill in every single stride with much self carriage, but at the end of the ride he lacked some oomph and his rider couldn't squeeze a good fourth flying change out of him.
"It would have been the winning ride," Christoph Hess said, but because of a lack in concentration the flying change didn't come through. Belissimo still received 9.2 from the judges which ranked him in silver medal position.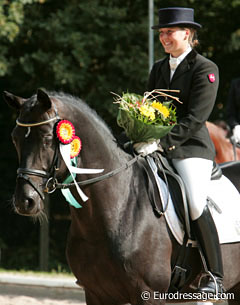 The bronze medal went to Trakehner stallion Insterburg (Hohenstein x Giorgio Armani) under the young Carola Koppelmann. The duo already won bronze at the 2005 World Championships in Verden two months before the Bundeschampionate, but the horse looked even better here in Warendorf. The black Insterburg stands out by his harmony, his quietness, his peaceful performance in the ring. He's trot, which looked a bit weak in Verden, was more engaged and active. The walk was good, but Insterburg is a real canter machine. He's super engaged, uphill, every single stride regulated and active.
Koppelmann did a fantastic job presenting this stallion. Unfortunately, she made a programme error starting the medium trot at M instead of R, which reduced her score by 0.2. The judges gave the duo a 9.2, but it dropped to 9.0 due to that error. Insterburg was not as spectacular as the winner Kaiserdom, but this Trakehner could easily have swopped places with his breed mate Kaiserdom for the victory. Koppelmann and Insterburg were one pure harmony with no tension whatsoever, but Kaiserdom probably has that extra bit of super star potential for FEI.
Sideline Comments on the 6-year old Finalists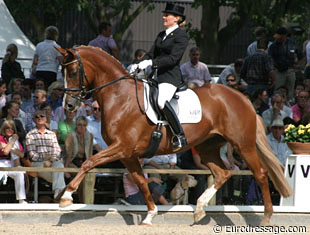 Fie Skarsoe and Media Luna
Trakehner power continues. Finishing fourth in the 6-year old finals was this Rhinelander branded, but Trakehner bred mare by Munchhausen x Karon. She had to qualify for the Finals through the consolation finals, but scored 8.7 in them and finished fourth overall. Lovely trot work from this Wiesenhof owned chestnut and even her canter, her weakest gait because she has difficulties keeping the rhythm 3 beat clear, has improved. Danish Fie Skarsoe trailered Media Luna from Krefeld (GER) to Warendorf herself. On our way back to Belgium we overtook her and waved! 
Oliver Oelrich on Dresemann
8.5 for the beautiful Dresemann (Daidalos x Wolkenstein II). The horse has a super front leg in the trot and remains to be a top FEI young horse, despite some loss of balance behind in the trot. Two flying changes were in two phases, but Oelrich still seemed very content with Dresemann's input.
Rudolf Widmann and Landorra
This Oldenburg mare by Landjuwel Gold x Diadem was ridden by Rudolf Widmann of Riding Acaademy Munich. The mare is owned by Jorg Alexander Breiski.
Christine Traurig on Limited Edition and Uwe Schwanz on Florestano
After their rides, Traurig and Schwanz got submerged in a serious discussion. Traurig made the same programme error as Carola Koppelmann on Insterburg, but the former American Olympic team rider kept a big smile on her face through her ride on Limited Edition (Lanciano x Donnerhall). The Rhinelander stallion was recently sold by his American owner Deborah Hausmann to the British pair Tony and Sarah Pidgley. Traurig is moving back to the States, while Limited Edition was stay in training at Johann Hinnemann's. 
Uwe Schwanz and Florestano were a bit underscored with their 7.2 mark. Florestano (by Florestan x Dinard L) was extremely light and balanced throughout the test. He might not have that super uphill conformation, but this horse was classically schooled: lightness, self carriage, balance. Schwanz once again proved his mastery in schooling young dressage horses.
Text and Photos copyrighted Astrid Appels/Eurodressage - No reproduction allowed without permission
Back to the 2005 Bundeschampionate Index