2005 European Dressage Championships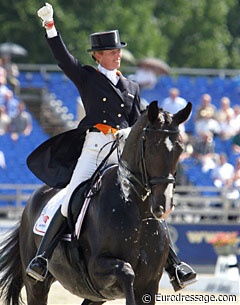 Anky van Grunsven and Salinero were the undisputed winners of the Grand Prix at the 2005 European Dressage Championships in Hagen. With an immobile halt at X she started her test in which the traversal movements, extensions and passage were the real highlights.
The piaffe was rhythmical and powerful but there was still some tension in the piaffe and not all transitions to passage were even. The small hiccup in the single tempi changes was but a minor imperfection to a beautiful, 77.417% earning test.
Hubertus Schmidt and Wansuele Suerte finished in second place with 74.625%. Wansuele looked extremely tender behind in the extended trots, but the mare was just so relaxed, so harmonious. It doesn't get any better than that.
What a delightful horse. Bjorsells Briar is just getting better and maturer by the year. His trot half passes were stunning, the piaffe and passage breath taking. Unfortunately a mistake in the tempi changes every two strides tampered with his score. 74.292% and a third place was the result.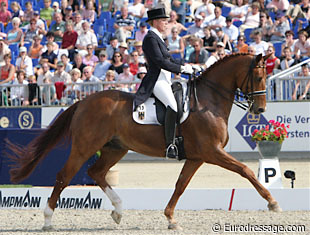 Heike Kemmer and Bonaparte, winners of the 2005 German Dressage Championships, were not the best German pair at the championships. Her 72.833% mark placed her sixth and made her third highest scorer for the German team. The piaffe was the main issue in her ride. It was not fluent and swinging. There was also a loss of impuls in the right pirouette and in the final passage. Nevertheless, the traversal movements were marvellous and the extended trots are superb.
British Carl Hester and Escapado lived up to the expectations and became the anchor rider for his team. There was little tension to be spurred in the sensitive Escapado and a mistake free test earned him 72.792%
Karen Tebar and Falada M exceeded the expectations by far and put down a fabulous ride on her chestnut mare. This French combination rode a very dynamic test with much impulsion (sometimes too much in the passage). Judge Withages gave Falada's final trot extension a 9. The French call Falada "Lolita Magique" because she's such a magical crowd pleaser.
Juan Antonio Jimenez and Guizo in form. With 71.792% they placed 10th, right behind team mate Beatriz Ferrer Salat on Beauvalais
Linsenhoff Wins Grand Prix after First Group on Day One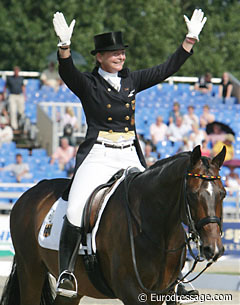 For the first time, it all worked. Ann Kathrin Linsenhoff rides an errorless test and gets 10's for the extended canter. Her super souple Sterntaler (by Sion) danced in the ring. He was not always straight in the body in the passage, but in general this horse looked fantastic. They got a generous score of 74.250%
Edward Gal and Lingh. Missing one week of training prior to the Championships, Gal's Lingh did not look fully up to the job. Gal had to motivate Lingh to go forward constantly in the trot work, but overall did show a beautiful piaffe-passage. A miss in the single changes and an abrupt stop during the piaffe at X pushed the combination's score down to a 72.917% and second place in the Grand Prix.
Laurens van Lieren and Hexagon's Ollright (by Rubiquil x El Corona). 70.833% was their score and it ranked them third. Van Lieren was very happy with the test. "I never had such nice contact with the bit," he told Eurodressage. "He was strong and stable." Some say Van Lieren's score was a bit low as the 23-year old has been consistently getting 72% marks, but in general the judges were more conservative with their marks today in the Grand Prix (not flamboyant, pumped up scores like at the World Cup) and overall, the panel of five was very unanimous in their verdict.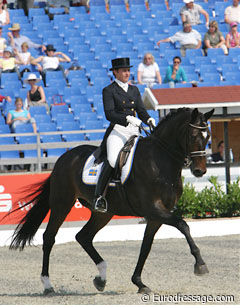 Tinne Vilhelmson and Just Mickey. 70.280% and a fourth place. Judge Cara Whitham said that Just Mickey was one of her favourite horses of the day. "He's so light and elegant," she said. With a top score for Sweden, the country enlarges its chances to capture bronze in the team championships.
Of course, Sweden will face tough competition from Great Britain. Fiona Bigwood and Mr G de Lully were Britain's star rider of the day. Her Mr G de Lully, a Swedish warmblood by Gauguin de Lully, is without a doubt one of the most talented horses at these Championships. Suppleness in every pace and just so much power and bounce in the piaffe and passage, Mr G de Lully and Fiona are a force to be reckoned with. The pair got 69.708% and finished in fifth place.
Eurodressage On The Scene of the 2005 European Championships