2005 European Dressage Championships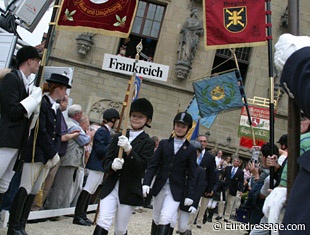 The opening ceremony of the 2005 European Championships took place in the old city center of Osnabruck on the square in front of the town hall. It was amazing to see the big crowd that had gathered to witness the show.
Even the German gold medal show jumping team was there to act in it.
The dressage riders of the European Championships had to parade on the square, carrying their flag. Each chef d'Equipe had to do a little speech in his own language. This was fun especially to hear Kyra Kyrklund talk Finnish and the Polish chef d'Equipe giving a complete serenade at the top of the town hall stair case.
The Austrian team struck a beautiful pose for our Eurodressage photographer. From left to right: Elisabeth Max-Theurer, Victoria Max-Theurer, Nina Stadlinger, Caroline Kottas-Heldenberg and Renate Vogelsang.
The opening ceremony took quite long with a string of speeches from several officials and when it started to pour, it seemed even longer. Victoria Max Theurer and her Austrian team mates shelter under their country's flag.
The Europeans might not have been in Russia, but that didn't withhold the Russians from coming to the Championships in Hagen, in style. Their outfits were very classy.
For the riders, the Championships are a unique experience. There was tons of press at the show to capture the moment and photographers were trampling one another while tv camera man smacked them in the face moving about with their huge shoulder cameras. Swedish Kristian von Krusenstierna was smarter. He just took his own photos.
The organizer of the Championships, Ullrich Kasselmann, looks focused all the time. He has a show to run and will make sure it's perfect.
After the opening ceremony there was a drink for all the riders and officials.
Eurodressage On The Scene of the 2005 European Championships