2005 Bundeschampionate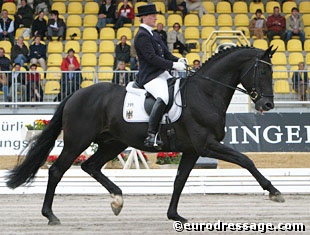 The Rastede Bundeschampionate Qualifier was the last chance for riders to qualify their young dressage horses in the Weser Ems area. This means that a large field of competitors gathered at the Rastede Castle Park in Rastede, Germany.
Winner of the 5-year old division was Katharina Suhlmann on Rustin Man, while Anja Engelbarth and Rosario won the 6-year old class.
Suhlmann and Rustin Man, a Royal Diamond x Figaro, offspring confirmed their solid supremacy in the 5-year old class, by winning it with an 8.3 mark. Suhlmann beat Stefanie Kerner on the Oldenburg mare Royal T (Royal Dance x Lanciano). Kerner and Royal T bested third placed Britta Klatte on Don Angelo (Don Larino x Rubinstein) with an 8.0 score.
Schockemohle's head rider Anja Engelbart was the undisputed winner of the six year old division with an 8.8 score. Aboard her black Oldenburg stallion Rosario (Rubinstein x Castro), Engelbart earned her ticket to Warendorf. They pair was far ahead of Brigitte Wittig on Baldessarini W (Breitling W x Diego) who finished fourth at the 2005 World Championships for Young Dressage Horses three weeks ago.
Results
5-year old Dressage Horses
1. Katharina Suhlmann - Rustin Man - 8.3
2. Stefanie Kerner - Royal T - 8.0
3. Britta Klatte - Don Angelo - 7.7
4. Brigitte Wittig - Biagiotti - 7.6
4. Sandra Kotter - Farewell III - 7.6
6. Sandra Muller - Diego - 7.5
6.. Sinva van Ee - Ramina - 7.5
6. Insa Hansen - World of Love - 7.5
9. Swantje Becker - Augenstern - 7.4
9. Anne Horstmann - Die Diva - 7.4
11. Alexandra Mundt-Hader - Connection - 7.3
11. Kira Wulferding - Stedinger - 7.3
13. Jessica Bent - Nugget - 7.2
14. Silvia Schulte - Raissa - 7.1
14. Ruth Hannover - Regentino - 7.1
16. Iris Fischer - Don Gregor - 7.0
16. Anja Wilimzig - Licotus - 7.0
18. Anne Horstmann - Die Dame - 6.9
18. Nadia Coghlan - Carlyle - 6.9 (Australia)
20. Dieter Weichtert - Ra - 6.8
20. Ina Hansemann - Weltlady H - 6.8
22. Sabine Egbers - Lancelot - 6.7
23. Hella Kuntz - De Kooning - 6.5
23. Annike Sluter - Don Carlos - 6.5
25. Isabell Bartels - Manolito - 6.3
26. Meike Diedrichs - Wynona - 6.2
27. Ruth Hannover - Ilona - 5.9
27. Andrea Lahmeyer - Havasupai - 5.9
29. Anja Raffel-Schwepe - Shiraz - 5.8
30. Sandra Buhrmann - Carry Gold - 5.5
31. Carina Sperveslage - Coletta - 5.4
31. Anna Willen - Rex Gregorius - 5.4
33. Sandra Kotter - Supra - RET
33. Eric van den Wildenberg - Don Picardi - RET
6-year old Dressage Horses
1. Anja Engelbarth - Rosario - 8.8
2. Brigitte Wittig - Baldessarini W - 8.6
3. Hannes Baumgart - Di Nero - 8.3
4. Sandra Kotter - Dr Doolittle - 8.2
4. Miriam Henschke - Ravienne - 8.2
6. Christian Flamm - D'Amour - 8.1
7. Oliver Oelrich - Le Cher - 8.1
8. Tanja Lammers - Revan - 8.0
8. Stefanie Kerner - Lord of Dance - 8.0
8 Tanja Lammers - Rubinero - 8.0
11. Roland Metzler - Donnerbube III- 7.6
11. Sabine Egbers - Limited Edition - 7.6
13. Yvonne Tilke - Don Juves - 7.5
13. Martina Hannover Sternberg - Sir Willson - 7.5
15. Stefanie Kerner - Formidable - 7.4
15. Sandra Buhrmann - Sir Tender - 7.4
17. Carsten Willms - Summersby W - 7.3
18. Ellen Bodenkamp - Florijn - 7.0
18. Anja Backhus Theile - Freixenet - 7.0
20. Casey Dornan - Le Charmeur - 6.8 (USA)
20. Insa Hansen - Lifestyle - 6.8