2005 European Dressage Championships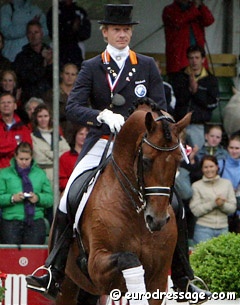 Today, shocking news was posted by the Dutch equestrian magazine De Hoefslag. Edward Gal's Lingh is ill and might not compete at the 2005 European Dressage Championships in Hagen next weekend.
Lingh has been having a fever since last week and already had to cancel his entry at the Outdoor Gelderland CDI, where he was supposed to show his new Trance freestyle. Because Lingh is not fit his participation in the European Championships is uncertain. This means that Kirsten Beckers and Broere Jazz might replace Gal if he will not compete in Hagen.
"It's is probably a harmless virus, but the timing is aweful," Edward Gal's business partner Nicole Werner told De Hoefslag. "We can't give him any medication against the fever because he'll test positive on doping at the Europeans and we can't train him either."
It would be very tragic if Edward Gal and Lingh were not to compete at the European Championships. He already had to miss out on the 2004 Olympic Games because Lingh tripped on the lorry ramp and got injured a week before the Games.
Source: De Hoefslag
Photo copyrighted: Astrid Appels/Eurodressage
Eurodressage On The Scene of the 2005 European Championships