2005 European Dressage Championships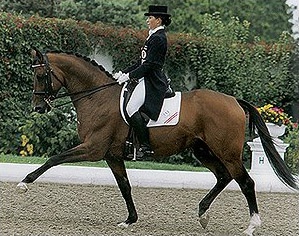 The Austrian Equestrian Federation has finally officiall decided which riders will be on the Austrian team for the 2005 European Dressage Championships in Hagen.
The selection of Victoria Max Theurer on Falcao and Nina Stadlinger on Egalite was already a certainty. The remaining two team spots were still debated.
The Austrian team will be completed by Renate Vogelsang on Davidoff and Caroline Kottas Heldenberg on Exupery (by Ex Libris).
Victoria Max Theurer will be taking her upcoming Grand Prix horse August der Starke to Hagen as well. "Falcao doesn't like to travel alone and August should see as much competitions as possible," Max Theurer said.
Photo courtesy: Fena
Eurodressage On The Scene of the 2005 European Championships