2005 European Dressage Championships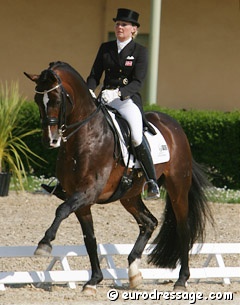 Following the 2005 Danish Dressage Championships in Broholm, the Danish Equestrian Federation has announced the team that will compete for Denmark at the 2005 European Championships.
The Danish riders selected on the team are:
Fie Skarsø - Münchhausen TSF
Lone Jørgensen - Ludwig G
Andreas Helgstrand - Blue Hors Don Schufro or Blue Hors Cavan
Nathalie zu Saeyn Wittgenstein - Rigoletto
Reserve: Anders Dahl - Afrikka
Danish international dressage judge Hanne Valentin is convinced that Denmark will be sending a strong team to the Europeans this year. "The level of Danish dressage here at the Championships as well as in general is of top level. With Lone Jørgensen, Andreas Helgstrand and Nathalie Zu Saeyn Wittgenstein, Denmark has the possibility to stand out internationally," Valentin said. "We have several really super riders we can be very proud of," she added.
Andreas Helgstrand, who won the 2005 Danish Dressage Championships aboard Blue Hors Cavan, is not yet sure which horse he's going to take to the Europeans, but he seems more inclined to take Don Schufro. "It's a bit irritating that you don't know where or when the Europeans are going to be, but I think I'm going to ride Blue Hors Don Schufro there," Helgstrand explained. "Cavan is the most secure of the two and I don't have to ride him much every day, but I have no doubt that both Don Schufro and Matine are equally as good."
Lone Jørgensen has mixed feelings about the cancellation of the Championships in Moscow "It was so bad that we couldn't be sure whether everything was going to be in order in Moscow. But now that it's no longer going to be there, my planning got a bit disorganized, because if the show is postponed for a long time, it will be hard to keep the horses at top level. But you have to try it," Jørgensen said.
Photo copyrighted: Astrid Appels/Eurodressage - No reproduction allowed
Eurodressage On The Scene of the 2005 European Championships