2005 World Championships for Young Dressage Horses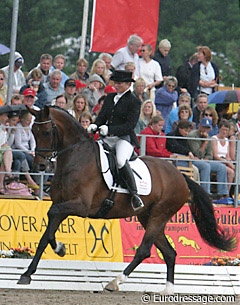 While in the 5-year old division, ten out of 15 finalists were stallions, in the six year old 7 out of 15 qualified horses for the big finals were mares. The highest placed mare amongst the 6-year olds was Baldessarini W, but Donatella, Sisther de Jeu
, Daianira van de Helle and Synovia definitely deserve as much credit.
Ranking sixth overall in the finals was the Danish warmblood mare Donatella, a Don Schufro x Lagano offspring, ridden by Bettina Laisbo. The powerful bay Donatella is a horse with definite FEI potential that will go straight to grand Prix if kept in professional training and good health. Donatella showed much self carriage in the trot work with fantastic half passes. The medium trot was a bit hurried, but in the extended trot she definitely pushed more from behind without losing rhythm. Her canter was well balanced, with superb flying changes. The mare had a very good walk, despite the fact that the judges complained about lack or relaxation and looseness in the back. Donatella was extremely through in the body and had a nice contact with the bit.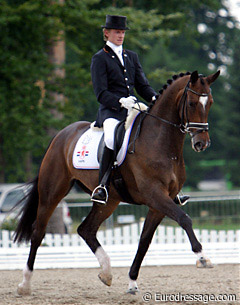 Her overall score of 8.42 placed her sixth, but she could easily have finished in fourth place had her walk been scored higher. Danish Olympian Jon Pedersen helped Laisbo and Donatella from the sideline in Verden. The mare is owned by a junior rider from Norway who has put Donatella in training with Laisbo until she finished her high school education.
Dutch A-team member didn't bring San Remo to Verden, the 5-year old he rode in Verden last year. This year he was aboard the bay KWPN mare Sisther de Jeu (Gribaldi x Amor). With 8.34 they placed seventh in the Finals. In trot the Dutch bred mare had good cadence but she lost her balance in the medium and extended trot, in which she sped instead of extended. Her walk was very nice with good overstep. In canter she lost the tendency to move uphill, especially on the right side. The mare clearly showed a difference in suppleness between left and right. The bending on the left was far better than on the right.