2005 European Dressage Championships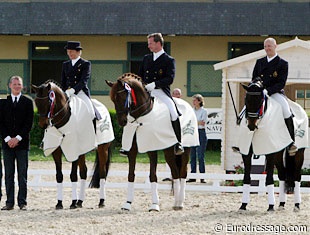 It's been since the 1994 World Equestrian Games that Belgium had a team of Grand Prix riders competing at a major international championships. Eleven years later, the Belgians have finally accomplished forming a team again.
It has cost them literally blood, sweat and tears to struggle through the political scheming of the Belgian Equestrian Federation and not to sell their FEI horses, but to keep them for themselves to compete.
The team that will represent Belgium at the 2005 European Dressage Championships (location + date unknown at the moment) is constituted by:
Jeroen Devroe - Paganini (Rhinelander, Pavarotti x Sheyenne)
Mieke Lunskens - Jade (Trakehner, Ressort)
Philippe Jorissen - Pikante Pia (Belgian warmblood, Donnerhall x Alcanar xx)
Eurodressage On The Scene of the 2005 European Championship