2005 World Championships for Young Dressage Horses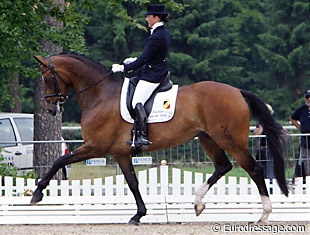 If you look back on the three days of judging at the 2005 World Championships for Young Dressage Horses, you can agree with the judges' opinion for 95%. Some horses got slightly overscored (Donnerball) or underscored (Donatella), but one can slightly differ in opinion.
A real nuisance, however, was the judging in the first round of the 6-year olds, in which the judges subtracted points from the gaits for riders' errors, whereas they should have been subtracted from the submission mark. Incorrect flying changes, for instance, were penalized in the canter, while only the points in submission should have gone done.
Twelve out of 30 horses scored 6.9 or below, at a World Championship! Something went wrong in the judges' box in the 6-year old qualifier and, fortunately, this misjudging was fixed in the consolation finals, so that good horses who didn't make it into the big finals because of this judging fiasco could redeem themselves by placing at the top of the leader board in the consolation finals and reclaim their rightful place in the big finals.
Best example of this weird judging system was the Belgian combination Vicky Smits and Daianira van de Helle. At the 2004 World Championships, this pair placed sixth in the Finals, this year she ranked 19th in the first round with 6.9. In 2004, she scored 9.5 for her trot, in 2005 she only got 7.20 while her trot has improved in balance and rhythm. In the first round, the mare broke into canter in the extended trot and had two mediocre flying changes, but the mark of 6.9 did not reflect the quality of the horse. Fortunately, in the consolation round the horse did get points according to her gaits and with 7,98 in total, she finished second and made it into the finals.
In the Finals, the duo placed 13th with a 7.5 overall mark. The judges praised Daianira van de Helle (Dream of Glory x Ritual) for her expressive trot work. She could have covered more ground in the extended trot. The walk was a bit uneven (short-long) even though there were two hooves overtrack. The canter is clearly 3-beat, but Daianira has the tendency to canter croup high. The flying changes were insecure and the third one was in two phases. Daianira is a mare with a delightful silhouette. She's a true eye catcher with a spectacular trot and can be sure that she will break through at FEI level.