FEI Dressage News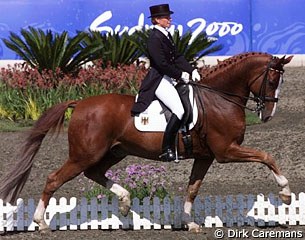 The IOC confirmed today the decision of BOCOG (Beijing Organising Committee for the 2008 Olympic Games).that the equestrian competitions of the Games of the XXIX Olympiad would be organised in Hong Kong.
When the FEI was informed of BOCOG's wish to move the equestrian competitions away from the heart of the 2008 Olympic Games, the FEI made every effort to try to reverse the plan. Letters from the athletes and the National Federations to BOCOG in support of the FEI's position, as well as a proposal to move the disciplines to an alternative site just outside Beijing did not succeed.
The main reason given by BOCOG to move the equestrian competitions to Hong Kong surrounded the quarantine and inability to set up and enforce an adequate disease free zone for horses in China. Although these were mentioned in Beijing's bid when securing the Games, at the time it did not appear to be the insurmountable obstacle that it has now become. And therefore it has left the FEI with no alternative but to accept BOCOG's request to relocate the event
Since 2001, the FEI has worked in close cooperation with the OIE (Office International des Epizooties) to help BOCOG establish specific protocols in order to obtain an international acceptance of the health status for equine that would allow temporary import and re-export of the Olympic horses.
Even if the decision is difficult to accept by many in the equestrian community, the FEI will now turn its full attention to ensure that there is an outstanding Olympic equestrian competition staged in Hong Kong in 2008.
The FEI has confidence in the ability of Hong Kong to stage horse sport and looks forward to joining forces with BOCOG. Hong Kong's experience in hosting international equestrian events is well known, even if a number of issues still remain to be solved. A study on the climate will be conducted this summer, to determine the competition formats and schedules, as the normal weather patterns suggest an extremely hot and humid environment for horses as well as excessive rains and typhoons which could interfere with the timetabling of events. A number of safeguards will be established as the welfare of the competing horses is paramount. The Hong Kong Jockey Club will be integral to this co-operation and it is acknowledged that they already have the best veterinary services in Asia.
BOCOG, the FEI and the Chinese Equestrian Federation will jointly establish a working group that will determine the long-term and positive legacy for equestrian sport in China. This group will develop an equestrian training and competition facility, which will be located within a newly created disease-free zone and will be able to host international events.
Her Royal Highness The Infanta Doña Pilar de Borbón said: "There has been a great movement of solidarity among the National Federations, riders and the whole equestrian community to try and remain in Beijing. I would like to thank them all here, as well as the IOC, who supported our case and negotiated with BOCOG. We now have a big challenge ahead of us: to be at the heart of the 2008 Olympic Games despite the distance from the host city. We are confident that, with the help of the IOC and BOCOG, the media, spectators and television viewers will have the opportunity to enjoy the excitement of the Olympic Games, which has been part of our history and heritage since the Stockholm Games of 1912."
Photo copyrighted: Dirk Caremans
Related Links
London Gets the 2012 Summer Olympic Games
Eurodressage Coverage of the 2004 Olympic Games 
Eurodressage Coverage of the 2000 Olympic Games