2005 European Dressage Championships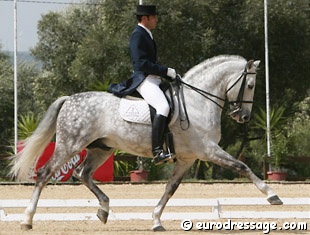 Even though the 2005 European Dressage Championships in Moscow have been cancelled, the event will take place at a different location and national selection procedures continue.
The Spanish Equestrian Federation announced the Spanish Dressage Team for the 2005 European Championships this week. Members on the Spanish team are:
Beatriz Ferrer-Salat and Beauvalais
Juan Antonio Jiménez Cobo and Guizo
Ignacio Rambla Algarín and Distinguido
Ignacio Lopez Porras and Nevado Santa Clara
New comer on the Spanish team is Ignacio Lopez, who is, just like Ignacio Rambla, a rider of the Royal Andalusian School in Jerez de la Frontera. Nevado is an 11-year old Andalusian breeding stallion from Stud farm "Santa Clara" near Córdoba, Spain. Lopez replaces Rafael Soto on Invasor. Soto's long-time equine partner Invasor suffers from a hoof problem and is, therefore, replaced by Nevado Santa Clara.
Photo copyrighted: Astrid Appels - Reproduction Prohibited
Eurodressage On The Scene of the 2005 European Championship