2005 European Dressage Championships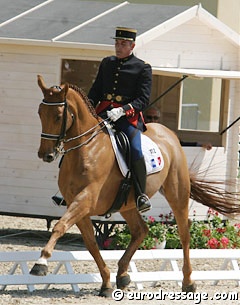 The French Equestrian Federation has announced the team that will be competing at the 2005 European Dressage Championships. Normally, the French Team for the 2005 European Dressage Championships was supposed to be announced several weeks ago
after the CDI Barzago, but due to allergic reaction of Hubert Perring's Diabolo St Maurice to the horse feed, the horse could not compete there.
The French selectors, Alain Francqueville, Pascal Dubois, Isabelle Judet and Margit Otto-Crépin, wanted to give the experienced Perring a chance to show his horse and postponed the announcement of the French team until Verden (July 1-3, 2005), where the panel sat together and made their final decision.
The French Team for the 2005 European Championships consists of:
Karen Tebar - Falada M
Dominique d'Esme - Roi de Coeur
Odile van Doorn - Parodie van de Wateringhoeve
Hubert Perring - Diabolo St Maurice
Reserve: Constance Menard - Lianca
The selectors chose for Perring based on his performance record. "The choice for the team is one of prudence," the leading French Equestrian magazine L'Eperon wrote. "Lianca is not yet totally stabile in her performances and the pair has never participated in a really big show. Diabolo St Maurice has made a very good come back into the show ring after a one year break, due to Perring's serious rider accident [he broke his tigh bone]. The pair has much experience at big competitions because they represented France at the World Equestrian Games in 2002 and were members of the team at the 2003 European Championships."
Photo copyrighted: Astrid Appels/Eurodressage
Related Links
French Dressage Team Announced for 2003 Open European Championships 
Hubert Perring Severely Injured After Fall from Horse