2005 World Championships for Young Dressage Horses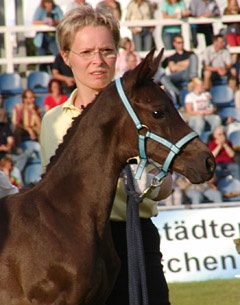 An outstanding and very young filly with interesting dressage bloodlines took the 2005 Hanoverian Champion's title when the 87 best Hanoverian foals met on the battle grounds in Verden, Germany.
This highly noble, refined and elegant foal called Donna Negra is by De Noir out of a Heraldik xx mare and is bred by Meike Fischer.
Only the very best foals from the regional Hanoverian foal shows had been selected to compete in Verden in the Hanoverian Foal Championship last weekend. The foal that outshone all of its competitors was a true beauty of superb and very feminin type. A young foal of less than three weeks of age with a special story attached to it.
Meike Fischer, breeder of Hanoverian sport horses, is the breeder of the winning foal, as well as the breeder of its sire De Noir, a black De Niro / Matcho AA son. This noble black stallion was licensed in Verden in 2002 as a two year old and sold at auction at the same event.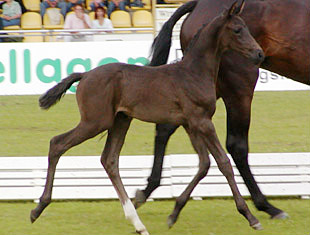 At his new home, stallion station Katrinelund in Denmark, De Noir was prepared for the Danish Warmblood stallion licensing in Herning in March 2003, where he took the champion title as best 3 year old stallion and went on to win the 30 days test. The same year he broke all Danish breeding records for a stallion of his age by covering over 400 mares.
In 2004 De Noir impressed with his first crop on the ground and that was the moment when his breeder in Germany decided to breed her Heraldik xx mare to her own stallion product, De Noir, who is based in Denmark.
This makes the 2005 Hanoverian Champion Foal a unique product as both dam, sire and foal are bred by the same person. Congratulations to Meike Fischer for her outstanding achievement !
Text and Photos copyrighted: 
Thomas Bach Jensen for Eurodressage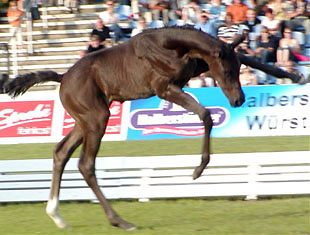 Results Finals Round
1. De Noir x Heraldik xx - Filly - Breeder: Meike Fischer: 38,00
2. Florencio x Friedensfürst - Colt - Breeder: Jorn Merzdorf : 36,00
3. Hochadel x Leibwächter - Colt - Breeder: Regina & Klaus Wiedenbrügge: 35,00
Results Qualifier Rounds
Group 1 
Florencio x Waterford - colt - 35 / 8.75 
Fuerst Heinrich x Matcho - filly - 33.5 / 8.375
Group 2 
Don Crusader x Wanderer - colt- 37.5 / 9.375 
Stedinger x White Star - filly - 35.5 / 8.875
Group 3 
Florestan x Donnerhall - colt - 33.5 / 8.375 
Stedinger x Ravallo - colt - 33 / 8.25 >
Group 4 
Escudo x Wendulan - filly - 36 / 9.0 
Waikiki x Eiger - colt - 35.5 / 8.875
Group 5 
Contendro x Drosselklang - filly - 37 / 9.25 
Lauries Crusader x Warkant - colt - 35.5 / 8.875
Group 6 
Earl x Davignon - filly - 34.5 / 8.625 
San Remo x Lion - filly - 33 / 8.25
Group 7 
Hilltop Rousseau x Davignon - colt - 35.5 / 8.875 
San Remo x Velten Third - colt - 34.5 / 8.625
Group 8 
De Nior x Heraldik xx - filly - 38 / 9.5 
Florencio x Friedensfurst - colt - 36 / 8.0