2005 World Championships for Young Dressage Horses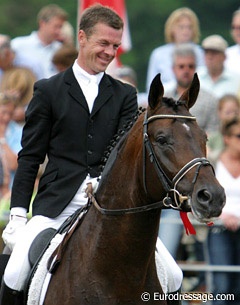 It must be a weird feeling for Dr. Ulf Möller not to win a medal at the World Championships for Young Dressage Horses this year. Möller, who has a subscription to World Champion's titles and medals (Sandro Hit, Placido, Don Davidoff, Amidou)
finished fifth this time aboard the Oldenburg licensed stallion San Rubin. In Germany they say "unheimliches Gefuhl," which is a weird feeling you can place or get used to.
In the first round San Rubin scored 8.5 (6th place) receiving a 9 for trot, an 8 for canter and an 8.2 for the walk. The trot work was extremely rhythmical and fluent, but in the extended trot, the horse lost his balance and powerful engagement at the end of the diagonal. The extended walk showed decent overstep. In the canter, San Rubin tends to go croupe high, but Dr Möller showed great feeling for his horse and constantly corrected his mount by putting him back on the hindlegs as much as possible.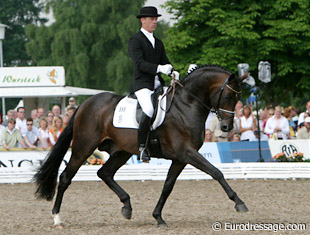 In the Finals, Möller achieved an overall mark of 8.4 on San Rubin. Though the presentation of this dark bay stallion was immaculate, little mistakes were to be noticed. In the trot work, San Rubin sometimes tilted his head or got a bit deep. The walk pirouette was not entirely correct and there was a bit of tension in the simple change. Dieter Plewa, however, did make several positive remarks on this lovely horse. "San Rubin is a horse with three very convincing basic gaits. He has an elastic trot, but goes a bit wide in the medium trot. His walk is clear and rhythmical, but can have more overstep. The canter is uphill, but the horse should move the hind legs more towards the gravity point."
All in all, Möller succeeded once more in perfectly presenting a talented young dressage horse by riding it to its fullest potential. The pair placed fifth overall in the finals. San Rubin is by Sandro Hit x Rubinstein and is owned by American Stephen Browning from California.