2005 World Championships for Young Dressage Horses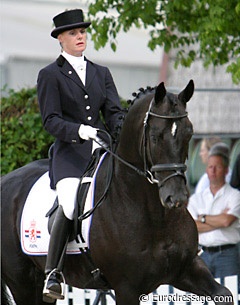 At the 2005 World Championshipsfor Young Dressage Horses, the KWPN breed society was unable to capture a medal with one of its products, an unprecedented fact. The Dutch warmblood society was allowed to send six 5-year olds
and six 6-year olds to Verden and was able to qualify six out of twelve horses in total for the finals. That's a 50% rate; not bad, but it makes one wonder what went wrong as a tiny and petite dressage national like Belgium, who only got to send four horses to Verden had three qualify for the Finals (75%). Maybe next year Belgium is allowed to send more horses? It's sounds like music in my (Belgian) ears.
The best Dutch warmblood in the 5-year old division was Totilas, and this black majesty was, in my opinion, also the best Dutch horse in Verden. Bred from a Trakehner bloodline (Gribaldi) out of a Glendale dam, Totilas was presented by Jiska van den Akker.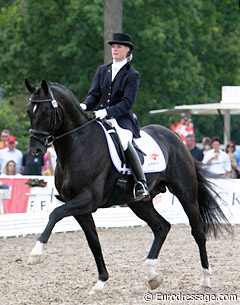 In the first round, Van den Akker had to cope with a lot of tension as Totilas was not very focused on the job. He was whinnying in the test and most of the transitions were tension frought, but the trot was lovely. Totilas has a beautiful front leg usage with a hindleg that actually follows! He showed good self carriage and balance. The walk sufficed with one or two hooves overtrack. The canter was sometimes croupe high and the horse made a flying change in the counter canter. Their score of 8.64 placed them fourth . The 9.4 score for the trot indicated the potential Totilas' has in that gait, but all the tension problems which made him slighly piaffe and passage in the transitions were incalculated in the submission mark of 7.9.
In the Finals, Totilas looked more settled in the ring and was able to display his quality gaits much more easily. Though the overall score was 8.5, Totilas had a better ride than in the first round. The judges praised him for his elastic, rhythmical trot, his large walk and his delightfully uphill canter and good collection potential.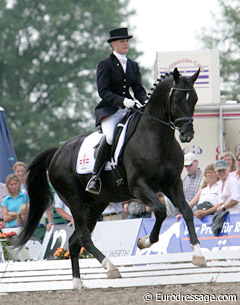 Their main remark was that Totilas was not very happy in the mouth, as he regularly opened it. Nevertheless, Totilas was the KWPN horse that showed the most potential for the future. If all goes well in health and training, this horse is a definite candidate for FEI level.
Totilas is bred by Mr. Schuil and Mr. Visser and is trained and competed by the Friesian Jiska van den Akker, who is regularly interviewed by the Friesian newspaper "Friesch Dagblad" speaking in her Friesian dialect. With her partner Jan Henk de Roos, she runs J & J Stables in Kootstertille, The Netherlands.
VIDEO CLIP of Totilas here
Text and Photos © Astrid Appels - No Reproduction ALLOWED!!