2005 World Championships for Young Dressage Horses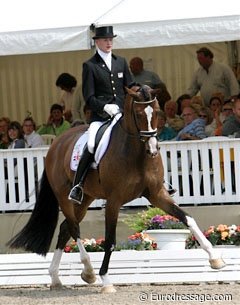 The top placing KWPN horse in the 6-year old class placed fourth in the finals, just like Totilas did in the 5-year old division. The 6-year old Spargo (Krack C x Boreas) has not lost any of his quality in his basic gaits since last year.
On the contrary, he moved from an eight place in the 5-year old division in 2004, to a fourth place amongst the 6-year olds this year.
Under young rider Theo Hanzon, Spargo ranked third in the first round with 8.44, but moved down one place in the Finals with 8.68. Spargo has a beautiful trot with lovely knee action but needs to be more engaged behind, moving the hind legs more towards the gravity point. This elegant mover has "more than average gaits," Plewa said. "His trot is active but the horse hurries a bit in the extended trot. The walk is even, and rhythmical. The canter shows good jump through the body."
The top five in the 6-year old class was completed by the Hanoverian mare Baldessarini W (Breitling x Diego), presented by German Grand Prix rider Brigitte Wittig. In the first round, the combination finished 4th with 8.38. The impressive bay mare showed outstanding flying changes in her lovely canter and a very confirmed, balanced trot. Her extended walk was fine, but the collected became a bit short.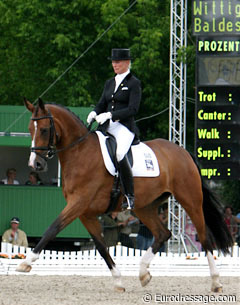 If one sat close to the ring, one couldn't help but notice that Baldessarini's noseband was tight that the mare was making a whirring noise while she breathed. Also, Baldessarini looked so confirmed as a 6-year old, too confirmed. This horse had such a balanced canter and trot and so many muscles in the hind quarters. At age 6, this mare looked like an experienced Prix St Georges horse.
Overpushed or not, Baldessarini is a top quality horse and in the finals the judges lauded her "obedience, elasticity and secure self carriage. Her traversal movements were well balanced, but her canter could be more uphill and her walk should show more shoulder freedom." The 8.48 mark placed her fifth.
Text and Photos © Astrid Appels