2005 World Championships for Young Dressage Horses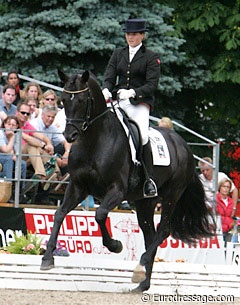 The young and talented Carola Koppelmann shed tears of joy when she heard Dieter Plewa announce her scores in the 6-year old Finals at the 2005 World Championships, which she rode with the Trakehner stallion Insterburg
(Hohenstein x Giorgio Armani x Leonardo). Her mark of 8.72 sufficed to win the bronze medal and beat Brigitte Wittig on Baldessarini W.
Koppelmann and Insterburg were fifth in the first round, in which he convinced everyone with his uphill canter, but lacked real shoulder freedom and engagement in the trot. The rein back was a bit forceful and Insterburg replied to it by sticking out his tongue. Because of the still active trot and outstanding canter, this black Trakehner stallion scored overall 8.14 and ranked fifth in the qualifier.
In the Finals, they spiced up their act by riding a more daring canter with good bounce, an outstanding extended canter and good flying changes. "This horse is filled with 'naturalness'," the judges said through the speaker. "The canter is uphill with natural elasticity. The trot could come more from the hindquarters and be more ground covering. This horse has proved us to be 'a happy athlete'," Plewa commented. The overall mark of 8.72 gave them the bronze medal.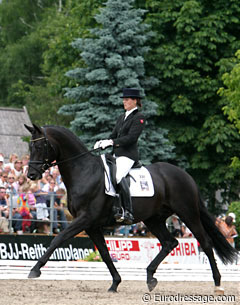 Insterburg is owned by Alexander and Sonja Kretschmer, who stand the black stallion at stud. "Overall, he produced an outstanding achievement, which we secretly hoped for," owner Kretschmer said, "but you never know what the competition will be like. Looking back, we had very strong competition and that is why were are even more thrilled with this achievement." Rider Carola Koppelmann is trained by Klaus Balkenhol.