2005 World Championships for Young Dressage Horses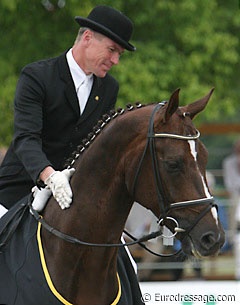 Winning the silver medal in the 5-year old division at the 2005 World Championships for Young Dressage Horses were Holga Finken and the Oldenburg licensed stallion Donnerball.
The liver chestnut Donnerball is a refined, noble looking horse with light footed rhythmic gaits, but he's not spectacularly strong behind.
In the qualifier on Friday, Donnerball ranked third with 8.68 behind barn mate Rusty. Donnerball excelled in his looseness in the body and lightness in the hand. The Donnerhall x Alabaster offspring is extremely attentive to the aids and shows much rhythm and balance. His extended walk had good over track, but the extended canter could have been more engaged. The judges awarded Donnerball's elegant trot 8.9, his canter 9.0 and his walk 8.20.
In the finals the judges seemed smitten with this horse, because their total mark of 8.86 -- which earned Finken the silver medal -- was quite an overstatement of the potential of this horse. Donnerball looks a bit ponyish under the tall Finken and, though he has lovely gaits, it is doubtful that this horse is FEI or Grand Prix calibre.
Furthermore, even though Finken has a very steady quiet seat in the saddle, he has this 'tic nerveux' of constantly doing 'uberstreichen'. It is obvious that Donnerball is light in the contact, so there is no need for Finken to constantly prove this by putting his hands near the horse's ears ten times in one ride.
Notwithstanding this criticism, Donnerball scored high marks in all three paces and the judges praised Donnerball for his very elastic trot. "The hindquarters could be more active and the medium trot was not ground covering enough," Plewa said. Yet, the judges gave him a 9 for trot. The walk was over the back and clear in rhythm but could have shown more overtrack (8.9). "The canter could be more expressive and he slightly has the tendency to hurry," Plewa remarked. "Nevertheless, the horse showed much looseness in his presentation and has good potential for collection," was the final comment.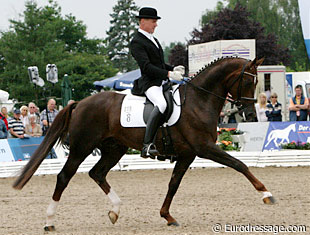 This kind of commentrary from the judges on a horse's gaits would normally produce an average of 8.0 to 8.5. In Finken's case, they were more generous and gave him 8.86 overall. Donnerball is a very fine stallion with three good gaits and especially a very lightfooted trot, but in Verden he was, qualitatively, not the second best horse in the 5-year old field.
Just like the winner Damon Hill, Donnerball is by the legendary sire Donnerhall. Donnerball is out of Calaida (Alabaster x Freiherr). He is bred by Richard Wiegert and purchased by Gestut Sprehe at the Vechte Elite Foal Auction. He became third in the stallion licensing in Vechta.
Photos and Text © Astrid Appels