2005 World Championships for Young Dressage Horses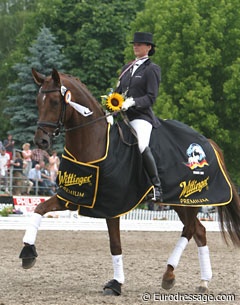 Of the 15 horses that competed in the finals, 10 were stallions, 3 were geldings and two were mares. It was easy to notice the girl power in the 5-year old finals as the two mares, FBW Dejavu and Gicea, were absolutely stunning movers
who refused to be eclipsed by the licensed sires. One of the ladies even took home the bronze medal, and that was FBW Dejavu.
In the first round, the Salach based Nadine Plaster rode her Baden Wurttemberger Bred FBW Dejavu to a total score of 8.6. In the Finals, they improved the mark to an 8.82. The judges lauded the horse for its fantastic trot which is Dejavu's strongest gait as she has incredible bounce and lovely knee action in that movement. The mare stays nicely in the frame, just dances through the ring and is a pleasure to watch. "Her hindleg is a real motor," said judge Plewa who scored the gait 9.8. In the walk, she could have bigger overstep though she had a good rhythm (8.8). The canter is Dejavu's "weakest" gait.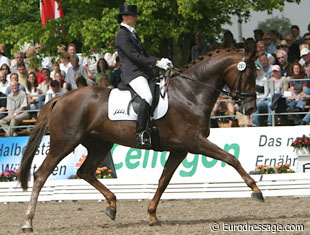 Even though she's active and willing to go forward, the mare needed to show more elasticity, especially in the top line, and move more uphill by carrying more weight on the hind quarters (8.4). One missed simple change resulted in an 8.3 mark for submission, but for general impression the pair scored 8.8. The overall mark of 8.82 was good for bronze which put them well ahead of the fourth placed combination, Jiska van den Akker on Totilas.
FBW Dejavu also descends from the Donnerhall bloodline by being by Dacaprio out of a Gluckspilz dam. The mare was bred by Alfred Schmelcher, the president of the Baden Wurttemberger Breed Society. Olaf Zinnicker green broke the horse and showed her at her first competition. FBW Dejavu is now owned by Pferd 24 Inc, a company ran by Nadine Plaster and her partner Simon Kohlenbrenner.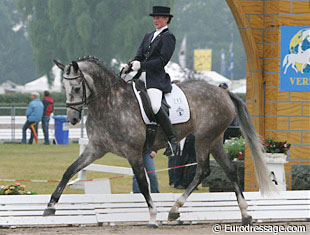 The other breath taking mare in the 5-year old Finals was Gicea ridden by Anna Svanberg. The grey Swedish warmblood mare by Rambo out of Nicea (by Urbino) is such an expressive, beautiful horse with such natural beauty and grace in her movements. She is well balanced and shows good bending.
In the first round she scored 7.64 and did not qualify for the Finals. In the consolation finals, however, she managed to push up her score to 7.9. Her walk could have been more active and in the canter on the right hand, the mare could have jumped more uphill through the back. She placed second in the small finals and qualified for the big finals, in which she achieved a 7.96 overall mark and a ninth place.
Text and Photos © Astrid Appels