2005 European Dressage Championships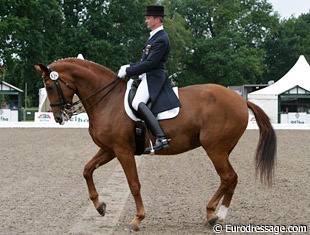 At the press conference of the 2005 German Dressage Championships in Verden, Germany, chef d'Equipe Holger Schmezer announced the German team for the 2005 European Dressage Championships to be held in Moscow, July 27-31, 2005.
Based on their performances during the 2005 show season and at the German Championships, Schmezer selected for the team Hubertus Schmidt on Wansuela Suerte, Heike Kemmer on Bonaparte, Klaus Husenbeth on Piccolino and Ann Kathrin Linsenhoff on Sterntaler Unicef. The reserve rider is Ellen Schulten Baumer with Lesotho.
Martin Schaudt with Weltall VA are surprisingly not selected. Schaudt has been breaking world records this spring, but was unable to show good form at the Championships. Isabell Werth did not even participate in Verden. Linsenhoff rode Wahajama in Verden as Sterntaler is lightly injured. She has ridden outstanding marks this spring with the Sion offspring and will only need to ride in front of Schmezer one more time before Moscow to show the horse is fit again. 
Eurodressage On The Scene of the 2005 European Championships