2005 World Championships for Young Dressage Horses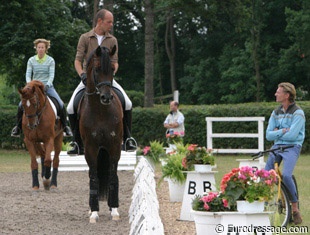 This year, the 2005 World Championships for Young Dressage Horses are quite a different experience for me than last year, because I'm travelling to the show with the Belgian Young Horse Team.
I followed the Belgian selection trials more closely than ever and now got the opportunity to join the Belgians as a member of their team (undercover groom one might say) instead of just being a journalist. Moonlighting in Verden, I arrived at the show Wednesday afternoon July 29, 2005. There was a huge queue of super transporters in line to unload their horses and equipment so we had to wait about 20 minutes before we were able to unload our horses and get them settled in their stalls.
The show in Verden is bigger than ever this year. It coincides with the German Dressage Championships and there are, of course, the Nurnberg Burgpokal qualifier and the Hanoverian Young Horse and Foal Championships. Because of the presence of the million dollar Grand Prix horses, the fanciest stalls in the Hanoverian Verband center in Verden were occupied by them. Only stallions (from different nations) and the Dutch team got the royal treatment, all others had to move into temporary stalls that have been set up in the indoor arena.
The indoor school is quiet and cool (unlike the fancy stalls were there is a lot of commotion going on), but if you have a 17.2 hh horse, you can not get it to go through the stall door as the horse has to duck in order not to hit the iron rail at the top of the stall frame. After some lobbying and negotiating with the very strict staff in Verden, three of the Belgian horses (two stallions, one 18.0 hh horse) got a fancy stall as well.
When all was set up and arranged, two Belgian riders (Jeroen Devroe and Ludo Verbraeken) saddled their horses for a training and scouting session. Devroe's Sierappel is an experienced young show horse and is very mellow in this new atmosphere, Verbraeken's Aros is extremely green and spooks at every flower pot. Fortunately, both horses were relaxing soon and got another major learning experience just by being observing so many new things at this international show. On Thursday morning all Belgians schooled their horses one more time in the main show ring to let the horse get acquainted with the impressive arena.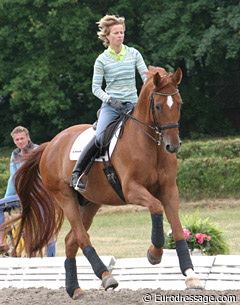 What is so interesting about arriving at an international show before the competition kicks off, is watching all riders train their horses. Many of them are pushing their horses to perfection so that they can compromise for something decent tomorrow when the show really starts. It is also an excellent opportunity to talk to the riders and get to know each other without them suffering from show stress. Furthermore, you get to see the great revellations you have been hearing about for months, such as Nadine Capellmann's Elvis, a 9-year old Hanoverian gelding who is rumoured to be the next World Champion. People believe the rumour, this horse is absolutely breath taking. He has to world class gaits, a super active hind leg and is RELAXED in his performance. No stress and no pressure when this boy is ridden (at least in Verden).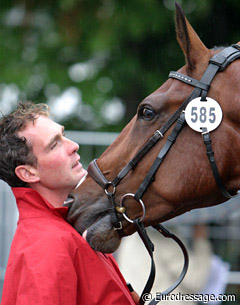 I couldn't help but curse when it started to rain Thursday afternoon right before the vet check. It has been such great summery weather here in Europe the past two weeks and now, at the show, it is going to rain. It poured at the start of the jog and many horses got soaked, but after a while there was only a drizzle coming down from heaven, which was quite an improvement had it not dramatically reduced the temperature from 25° to 15°. I was cold and wet the entire afternoon and had this horrible premonition in my head that the most important show day (tomorrow, when all the horse go) is going to be a repetition of last year: a dreadful, rainy day which turns the entire show into a mud bath. Rain rain go away!!
Photos and Text © Astrid Appels