2005 World Championships for Young Dressage Horses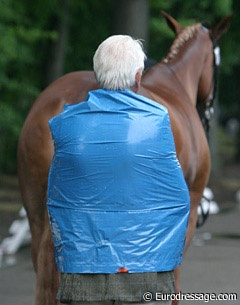 The 2005 World Championships for Young Dressage Horses kicked off today in Verden, Germany, with a scary vet check. Four horses out of approximately sixty entered to compete had to do a re-run during the trot up
, as they moved a bit edgy on the hard surface. Two of them have been held back for reinspection tomorrow morning.
Even though Europe crouched under tropical tempatures the past two weeks -- and was loving it-- the weather gods had to spoil the party today by raining cats and dogs the entire afternoon. All horses got soaked during the jog when they had to prance their healthy trot on slippery concrete. Two Portuguese horses, who had to suffer 3 days of transport to get to Germany looked sore and will be reinspected by the judges tomorrow.
All American horses passed the vet check. Susan Dutta and Currency DC (Clintino x Classiker), Hokan Thorn and Donegal (Davignport x Grundstein), and Susanne Hassler and Royal Prince (Rohdiamant x Prince Thatch xx) passed the first scary test of the 2005 World Championships and are declared fit for competition.
American Young Horse Chef d'Equipe on the scene is Tim Dutta, who stated to be ecstatic to be in Verden. "We're happy to be here with three very nice horses," Dutta said. "We hope to go for a medal of course, and we are all definitely going to do our best."
Dutta's wife Susan qualified the 5-year old Oldenburg bred Currency DC for the Championships by winning the U.S. Eastern League Finals in Raleigh, NC, in June. "It was only his third show ever in his life and he achieved the fourth highest qualifying score of all 5-year olds here in Verden. Klaus [Balkenhol] saw 'Curry' in Gladstone and told us we had to go to Verden," Dutta explained.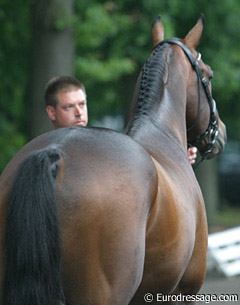 Susanne Hassler of Hilltop Farm is back in Verden for the second time. Last year she put down a historic performance by being the highest placed American ever at this event. With the Hanoverian stallion Royal Prince she ranked fourth in the 5-year old Finals. This year, Royal Prince has moved up the levels and has to show his skill in the flying changes in the 6-year old division. He's a strong contestant for a top place and Hassler is eager to get the maximum out of him. "It's great to be here again. Royal Prince was quite hot when I rode him yesterday but he always needs three days to settle in. He was hot yesterday, hot today and hopefully he'll be just fine tomorrow," Susanne commented. "I rode him early this morning so everything would be quiet, but there were race horses on the track and he just stared at them."
Royal Prince's concentration is up and the American team is craving for the challenge to compete against Europe's finest young horses. The show starts on Friday July 1, 2005, with the 5 and 6-year old classes that run throughout the day.
Tune into Dressagedaily and Eurodressage to read the latest on the show.
Text and Photos by Astrid Appels
Eurodressage Coverage of the 2005 World Young Horse Championships