2005 European Junior/Young Riders Championships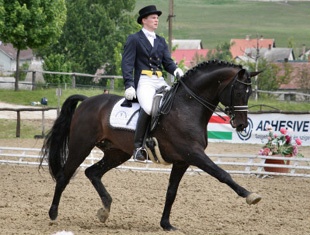 The Swiss Equestrian Federation named the four junior and young riders which have been selected to compete at the 2005 European Junior/Young Riders' Championships in Barzago, Italy, mid July.
Switzerland will not have a team competing, but two individual juniors -- Christine Ebert (on Ronja B) and Anna Widmer (Pik Lady R) -- and two invidual young riders -- Patricia Scharli (Conterno) and Andrina Sigrist (Willy the Kid) -- will be competing at the Championships.
Austria will be sending two teams to the Europeans. The Austrian Junior Riders team consists of Sabrina Reinwald (Impuls S), Sabrina Berghofer (Shakespeare) and Katharina Wunschek (Atoutprix). The Austrian Young Riders team is constituted by Nikolaus Erdmann (Danny Wilde), Markus Jungwirth (Smart Cookie) and Alexandra Slanec (Lorino).
Photo copyright: Ernst Futar
Back to the 2005 European Junior/Young Riders Championship Index