2005 World Championships for Young Dressage Horses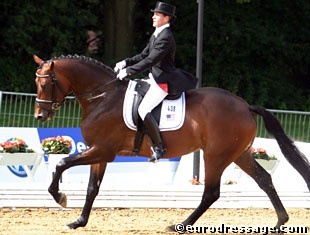 Iron Spring Farm's Sir Sinclair will not be competing at the 2005 World Championships for Young Dressage Horses in Verden, Germany, July 1-3, 2005. The KWPN stallion by Lord Sinclair x Flemmingh has a busy breeding schedule
and the trip to Germany would interfere too much with his duties as a sire.
Furthermore, Sir Sinclair's rider Dorie Addy-Crow has announced that as of July 1, she will untie herself from trainer Belinda Nairn-Wertman and go independent to build up her own business in Pennsylvania. Sir Sinclair's training will stay in the hands of Wertman, who will show the horse at the 2005 USEF/Markel National Young Horse Championships in Lexington, KY, in September.
"Dorie has done an excellent job with Sir. We are very pleased with how she has brought him along," Meghan de Garay of Iron Spring Farm said. "With her departure from Inspo, Mary Alice Malone decided to give Belinda the ride. She is actually the one who found Sir Sinclair for us. The plan is for Belinda to show Sir Sinclair in the USEF/Markel National Championships for FEI 6 year olds and then move up to Prix St Georges for 2006."
Sir Sinclair and Dorie Addy-Crow qualified for the World Championships in Verden by placing second in the 6-year old division at the USEF/Markel Eastern Young Horse Selection Trial in Raleigh, NC. Their average score of 8.440
was the second highest in the United States. However, Sir Sinclair will not represent the United States in Verden this year.
Sir Sinclair is one of the most popular breeding stallions in the United States, having covered 80 mares in 2004 and with a book expected to go to about 80 this year as well. "His foals have been really nice and we have several breeders who are breeding 4 to 6 mares to him. Many mares, which were bred to him last year, are rebred this year, because the owners were so impressed with the foals. We have also been very thrilled with our Sir Sinclair babies," de Garay explained.
The other selected American horses for Verden, Royal Prince and Currency DC, are already in Europe to be prepared for the Championships.
 Eurodressage Coverage of the 2005 World Young Horse Championships