2005 World Championships for Young Dressage Horses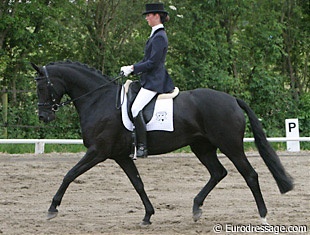 Today the Belgian Equestrian Federation announced that Belgium received one wildcard for the 2005 World Championships for Young Dressage Horses. The Belgian Young Horse selectors, Jacques van Daele, Mariette Withages and Freddy Leyman
decided to award this wild card to the fifth best horse of the selection trial, Ankonda van de Kwaplas.
"It is only logical that we award this card to the rider and horse that had the most points excluding the four horses that already qualified at the trial," Jacques van Daele commented.
The Belgian warmblood bred Ankonda van de Kwaplas is by Ferro out of Jankonda (by Rubinstein x Furioso II x Malteser) and is bred and owned by Hugo and Trui Kerkhove-Vlieghe from Torhout, Belgium. The young rider Kaatje Debie is riding this lovely black mare. At the selection trial they scored 77.80 points.