Eurodressage F.O.C.U.S.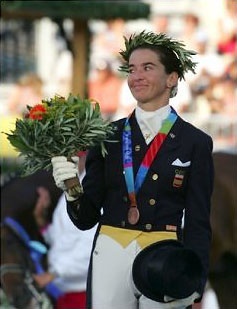 After winning the individual bronze medal at the 2004 Olympic Games in Athens, Spanish Beatriz Ferrer-Salat retreated to the back ground only showing her Hanoverian gelding Beauvalais at a select few competitions, such as the World Cup qualifier in London and the CDI Barzago last weekend, where she won it all.
With her mind set on participating in the 2005 European Dressage Championships, Ferrer Salat is capsulizing the energy and talent of her Beauvalais, only to release it to its fullest potential on the Bitsa show grounds in Moscow in July.
Born with a drive to excel, the 38-year old Beatriz Ferrer-Salat is Spain 's most successful dressage rider ever. Having competed in three Olympic Games, three World Equestrian Games and four European Championships, Ferrer-Salat has walked the path of glory and keeps moving forwards.
Her top horse Beauvalais, an 18-year old Hanoverian gelding by Bolero x Grande, can be compared to a Château Latour, a superb red wine which improves by age. At the 2004 Olympic Games in Athens, Beatriz and Beauvalais won the team silver and individual bronze medal. Her Athens' Olympic medals were only two in the large collection she had already built up over the years.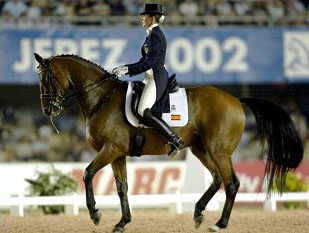 At the 2003 European Championships in Hickstead she claimed individual bronze and team silver after already having won individual silver and team bronze on home turf at the 2002 World Equestrian Games in Jerez de la Frontera , Spain .
Beatriz' equestrian career started at a young age. "When I started riding, I was just really happy to have a horse to look after. Back then dressage was not popular in Spain . Everybody was show jumping or playing polo," she said. Beatriz got her first horse 'Vendaval' at age 16 and claimed she had no control over him at all.
With the support of her parents, Ferrer-Salat became a professional dressage rider and got first internationally recognized with her horse Vital Robert Brillant. Because of her tenacity and innate passion for horses, she spurred herself onwards and improved her riding skills with the help of trainer Jan Bemelmans.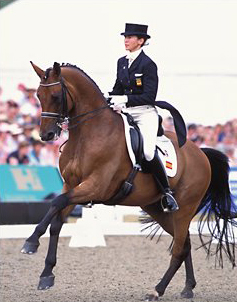 Aboard Beauvalais, Beatriz systematically rose to the top and achieved the maximum through perseverance and training. Nevertheless, she remains superstitious about showing. "I always use the same earrings and I always put the left one in first and then the right one. I also touch a lot of wood."
Located in Barcelona , Spain , Beatriz runs her own dressage facility, where she rides six horses a day and teaches four students. In the evening she goes to the gym to work out. Her hobbies include reading books, going to the movies and sailing. The most influential person in Ferrer-Salat's life is her deceased father Carlos, who was the Spanish national tennis champion and who played in the Davis Cup for Spain . "I admire him a lot because he excelled at everything he did. He supported me and gave me a good education."
Text by Astrid Appels/Eurodressage
Photos copyrighted: Dirk Caremans - David Charles