2005 World Championships for Young Dressage Horses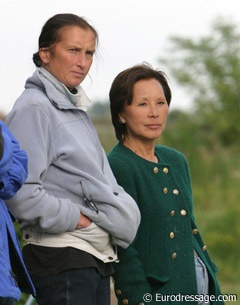 The Belgian selection trial for the 2005 World Championships for Young Dressage Horses in Verden took a very rough start with tons of organizational problems. However, the trial itself took place in a very amicable atmosphere
at Reiko Newton's lovely facility Domaine Mon Souhait in Braine L'Alleud on Tuesday June 6, 2005.
Last year, the Belgian Dressage Committee decided to pick the young horses for Verden based on their performances in the Cup of Belgium FEI Young Horse show circuit, but at the last moment it was decided to hold a selection trial instead.
This year, the federation was only going to do the selection trial, but none of the riders knew when and where. Only two weeks in advance, a mysterious email was sent round that the trial was to be held on Tuesday June 6. This was never officially published in the VLP Info magazine and only a couple of people received the email. The news was posted online on several websites and word of mouth made it possible that people interested in qualifying their horse were alerted of the trial.
Unfortunately, one had to come up with invented entry forms and an order of go was never published until 12 hours ahead of time (online on Eurodressage.com). People with no internet access never knew their riding times, or simply received a phone call on Tuesday morning round 11 o' clock to let them know they had to ride at 5 in the afternoon. Albeit, Belgian dressage riders are hardened to this hilarious, official KBRSF organizational incompetence. But, let the show begin!
Belgian Selection Trial: Nick van Laer and Hennessy XO Wins 5-year old class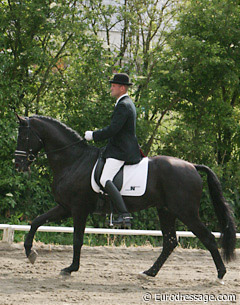 Judges Mariette Withages, Freddy Leyman and Jacques van Daele were planted in the judge's box to analyze and discuss the rides of twelve 5-year olds and six 6-year olds.
In general, the quality of the 5-year olds was pretty decent, with a couple of interesting horses and several other horses who were nice riding horses, but wouldn't stand out in a field of world class potentials in Verden.
The distinguished winner of the 5-year old division and qualified for Verden was the Oldenburg stallion Hennessy Xo (Hohenstein x Welt Hit II). Fresh Belgian LRV Eventing Champion Nick van Laer presented this black stallion in a good manner. The horse was nicely on the bit, with the nose slightly above the vertical, but on the bit.
Hennessy's trot work was rhythmical with much looseness in the body, though the horse did lose his balance a bit when the reins were lengthened. The walk showed at least 2 hooves overstep, but was a bit quick and the canter work was active behind and ground covering. Hennessy Xo and Nick van Laer scored 80.20 points and had the highest mark in the 5-year old division.
Hennessy XO is bred and owned by Jean van Laer of brood farm De Nayakker. "Nick has been riding Hennessy for three months now, and the first time he got on him, they clicked immediately," Jean van Laer told Eurodressage. "I also have a yearling called 'Highness' who is a full brother to Hennessy," van Laer added.
Belgian Selection Trial: A Leap of Faith for Aros and Ludo Verbraeken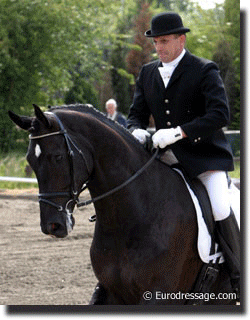 Although there was much hope in camp "De Steppe" for the qualification of Aros for Verden, not the rider, nor the trainer, nor the owner, nor breeder dared to dream of a selection. When Aros' name was called at the proclamation, the whole table cheered and tears were shed. It was a dream come true.
Second placed and, therefore, qualified for Verden was the black Belgian warmblood gelding Aros. Presented by Ludo Verbraeken of dressage stable De Steppe in Mol, Aros entered the ring with terror in his body. The long legged gelding, who stands out with his natural uphill gaits and immense self carriage, looked like a scared puppy dog and held himself throughout the trot tour. Nevertheless, Aros showed a balanced, correct and lightfeeted trot, but he did not even demonstrate half his potential. In the canter, he loosened up a bit and the big, ground covering strides were very obvious in the left extended trot. Unfortunately, Aros broke twice into trot in the counter canter and his rider had to fix the problem quickly, so that he could still do the simple change of leg. In the medium walk, Aros had one hoof overtrack.
Both Aros' rider and trainer were uncertain whether the horse would make the cut, because of the mistakes in the test, but fortunately the black had shown flashes of his potential, so they were crossing their fingers hoping that the judges had seen it. At the proclamation, it turned out that Aros had scored 78.60 points in finished in second place. Judge Mariette Withages commented that "Aros is the best quality horse in the 5-year old division, but it was a very close call and we had a strong discussing going whether to take him or the third placed horse."
The Belgian selectors took 'a leap of faith' in selecting Aros. They based their decision on the quality of the gaits and conformation they had seen at this trial. With one month extra time for training before the Championships in Verden, Aros should be fully ready for it and will definitely not be a gray mouse in the pack.
Aros is a Belgian warmblood by Saros van het Gestelhof out of a State Premium Mare by Donnerschlag. He is bred by Willie Kuipers and owned by Andre and Germaine Joosten from Lommel. Andre Joosten has green broken and trained Aros under the supervision of Kristina Geerts at dressage stable De Steppe in Mol. The original plan was for Geerts to present the horse at the trial, but she had to undergo minor surgery to her leg six weeks ago and could not recover in time to compete the horse. Her partner Ludo Verbraeken took over the ride and only sat on the horse 7 times before the trial.
When Aros' qualification was announced, Germaine Joosten burst into tears. "I didn't even want to come to Brussels, because it's so far away from home. I normally just do the 20 minutes trailering from Lommel to Mol and that's it," she said. Germaine was shocked when she heard the drive to Verden would take six hours. "I'm not going; it's too far," she joked.
Belgian Selection Trial: Ankonda van de Kwaplas is Sugar 'n Spice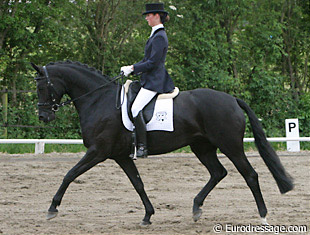 The Belgian warmblood mare Ankonda van de Kwaplas can be described as "sugar 'n spice and everything nice." She's a delightful black mare by Ferro x Rubinstein and was very nicely presented by the young and talented Kaatje Debie. This mare is just a doll with her refined movements and is extremely light in the hand. Her trot is nice, but can show more self carriage, her walk shows decent overstep, but was a bit tense. In the canter she can move more uphill, but has a very functional hind leg.
Ankonda van de Kwaplas is a lovely ladies and scored 77.80 points, just missing out on being selected for Verden. It must have been a bitter pill to swallow for Debie, but in all honesty, Ankonda would not be flashy enough to make an impression in Verden. She's a lovely horse, but not enough of an eye catcher to challenge stallions such as Trento B, Tuschinski, Damon Hill or Dejavu.
One got pretty much the same overall impression from Anais van het Meierhof, a sweet chestnut Belgian warmblood mare by Flemmingh x Wendekreis. Under Diana Smolders, Anais ran an errorless test that earned her 74.80 points, but she isn't the most striking type and is croup high. Nevertheless, Smolders showed nice things on this horse and this is a pair to watch for the future.
Belgian Selection Trial: Eye Catching Eye Motes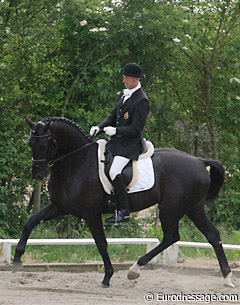 There were plenty of eye catchers in the selection trials with big, flashy movements that one first impression make your jaws drop, but after a closer look several flaws were to be detected in their tests, which resulted in a relatively low score.
Much was expected of Taikoen, a KWPN branded Jazz x Zeoliet offspring, who won almost all Cup of Belgium shows last year as a 4-year old. Under Werner van de Brande, this massive black horse entered the ring with much flair. His gaits were active and engaged, but soon enough it became obvious that he was totally against the leg. He pricked his ears backwards when the rider give a leg aid and the contact with the bit was very unsteady and messy. Taikoen has much potential, but Van den Brande was unable to show it at the trial.
Another renowned young horse in Belgian is the Hanoverian War and Peace (Weltmeyer x Matcho AA). Rider and owner Dominique Mohimont pushed this black gelding over the limit in the trot work and rushed her horse through the movements. In the extended trot the horse did extend in the frame, but his hind legs got slow and did not push enough. The extended walk showed good overtrack, but he was a bit uneven in the front legs. Especially the counter canter has to be praised in this combination. The horse maintained his balance and kept a good rhythm, even though it could have been more uphill. They scored 74.00 points and ranked fifth.
By the way, the color black is getting extremely boring to watch. 10 out of 12 5-year olds were very dark bay or black. It was a pleasure to see a chestnut like Anais add colour to the scene.
Belgian Selection Trial: No Doubt About Daianira and Sierappel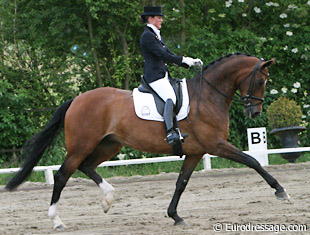 Only six horses in the 6-year old division and it was crystal clear which two horses would qualify for Verden. Daianira van de Helle, who placed sixth last year in the 2004 World Championships, and Sierappel were the lucky two.
I was very interested to see Daianira van de Helle (Dream of Glory x Ritual) go again because I hadn't seen her since the 2004 Belgian Championships and there, the bay Hanoverian mare definitely had an off-weekend. The first time I saw this mare go was when she was 4-year and she immediately stole my heart. Such self-carriage, such light feeted gaits, so naturally uphill. Daianira is a once in a life time horse with electric gaits and the right temperament for the FEI movements. In the Young Horse Test, however, this stunner has to keep her cool in order to excel. Luckily this was the case at the selection trial. Daianira showed excellent balanced trot work. Her walk, her least powerful gait, had improved considerably and she solidly showed one hoof overtrack. The canter was lovely and three flying changes - though a bit high - were ok, except for the fourth one which was late behind. Vicky Smits and Daianira van de Helle scored 80.40, the highest mark of the day.
The second 6-year old to qualify for Verden was Sierappel, a KWPN stallion by Montecristo x Flemmingh. Presented by Jeroen Devroe, Sierappel has undergone a huge transformation. The extreme body tension he showed as a 4 and 5-year old has vaporized and the horse had gained so much muscle. His trot was good, nicely balanced, well engaged. The extended walk was large but a bit hasty. Sometimes the clear 3-beat rhythm in the canter as well as the balance got lost. The flying changes were high and the fourth one was late to the aid, but correctly performed. Devroe and Sierappel scored 76.20.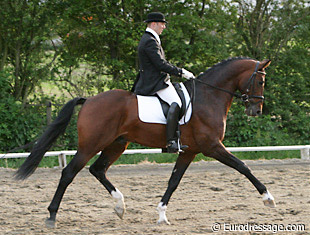 "I only have him in training four months ago," Devroe told Eurodressage, "and he's breeding three days a week. When I was in Bern competing Paganini, he didn't eat for almost a week. He lost much weight, but we finally got him eating again on Saturday. We have to add honey and apples to his feed though." Sierappel's transformation/recovery is remarkable. The horse seems at peace, relaxed and happy for the first time in his life. It is as if he can finally breathe.
Wilfried Mondelaers and Warkant van het Gestelhof (Ferro x Furioso) placed third with 73.80. In the trot and canter, Warkant shows super potential with much rhythm and swing in the body, but his walk will be his achilles heel forever. Mondelaers does his best to cover up the pacing by rushing Warkant through the extended walk, but in the collected walk in between the pirouettes, the pacing is undeniable. "He scores 8s for trot and canter, but when you see the walk, the score drops to a 5," Withages explained.
With Hennessy Xo, Aros, Daianira van de Helle and Sierappel selected for Verden, Belgium will be able to present a team of high quality horses that can take up a good fight against Germany and Holland.
Text and Photos copyrighted: Astrid Appels/Eurodressage - No Reproduction Allowed
Related Link
Eurodressage Coverage of the 2005 World Young Horse Championships