German Dressage News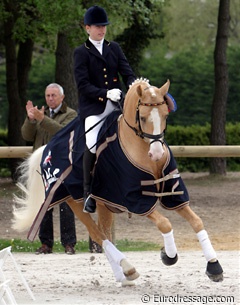 Olympic dressage rider Sven Rothenberger has bought the FEI ponies Deinhard and Dino P. Rothenberger procured these two top dressage ponies for his children Sanneke and Sönke Rothenberger.
"When I have the opportunity to buy such good ponies, I will not decline," Rothenberger commented. "Both ponies will be ridden by Sanneke and Sönke," he added.
Especially the sale of Deinhard is of great importance, as he's one of the top upcoming pony stallions in Germany. Under the 16-year old Anne von Negri, he won the 2005 Preis der Besten, which are the German FEI Dressage Pony Championships in Warendorf.
Deinhard B is a delightful licensed palomino stallion by Dornik B x Golden Dancer. He was reserve champion last year at the 2004 Bundeschampionate and won the Preis der Besten this year, while only being 6 years old. Deinhard B was also the champion at the international pony show in Saumur, France.
Dino P has already been a bit longer in Rothenberger's possession. With him, Sanneke placed 6th in the 2005 Preis der Besten, and won the international pony show in Addington, Great Britain. Last year, Dino P was shown by Janine von Rhein.
Sanneke Rothenberger, who rides for Germany, is also competing Domino Dancing and Konrad. Without a doubt, she has the largest and highest quality collection of FEI dressage ponies at her disposal in Europe.
Related Links
Deinhard B Takes the Silver at the 2004 Bundeschampionate 
Rothenberger's Dornika Supreme in Warendorf 
Konrad to Sanneke Rothenberger