2005 European Dressage Championships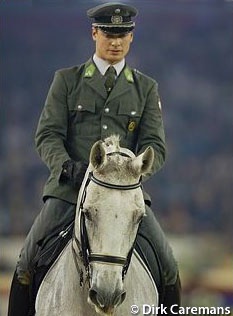 Sissy Max Theurer, president of the Austrian Equestrian Federation, has announced that Victoria Max Theurer, Nina Stadlinger, Renate Vogelsang and Peter Gmoser.
Max Theurer and Stadlinger have proved their excellent shape this show season aboard Agrigento, Falcao and Egalité at CDI's such as Munich, Saumur and Achleiten.
Renate Vogelsang with Davidoff and Peter Gmoser with Lausbub have received the confidence of the Austrian Equestrian Federation and have been added to the team. They will have to compete at the CDI Fritzens, though, to confirm their current show shape.
Photo copyrighted: Dirk Caremans